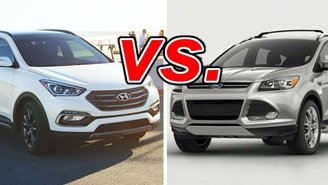 The Hyundai Santa Fe Sport and Ford Escape have risen to the top of the compact crossover class over the last few year. And why not? Each is blessed with lively styling and performance, plus a serious dose of interior refinement.
Both vehicles are in prime fighting shape. Let's see which comes closer to crossover perfection.
See a side-by-side comparison of the Escape & Santa Fe Sport »
What We Like About the Santa Fe Sport
A slightly smaller variant of the regular Santa Fe, the five-passenger Sport follows Hyundai's current trend of generous standard equipment and ambitious interior refinement. There's evidence of both in the crisp new dashboard, a rather elegant affair that's color-keyed to match the seats and door panels. Cargo space comes in at 72 cubic feet, about as good as it gets in a small crossover.
All models carry a six-speed automatic transmission and driver-selectable electric steering. The standard 2.4-liter four-cylinder produces 190 horsepower and delivers 24 mpg in combined city and highway driving, or 22 on all-wheel drive models. The optional 2-liter turbo provides a boost to 264 horsepower and takes the Hyundai from zero to 60 mpg in a 8.1 seconds, commendable for this class.
What We Like About the Escape
Along with expressive styling inside and out, the Ford boasts responsive handling and overall nimbleness that make it a very satisfying daily driver. High-quality materials are deployed throughout the cabin, and the sweeping dashboard is exceptionally attractive and functional. At 68 cubic feet, cargo room doesn't disappoint. Technology fans take note: the Escape is one of the few vehicles in this class to offer an automated parking system and a hands-free power tailgate.
Fuel economy is quite good with any of the three available four-cylinder engines. The midrange 1.6-liter turbo gives the best numbers, pulling in 26 mpg combined. The top choice, a 240-horsepower 2-liter turbo, eliminates the need for a thirstier V6.
Strengths and Then Some
It's reassuring to see two affordable crossovers with such well-constructed interiors. The Hyundai offers a tad more space and remarkably quiet operation at highway speeds. The Ford has a slight edge in fuel economy and possesses enjoyable road manners that keep commuting from getting dull.
Our Verdict: Ford Escape
The Escape strikes us as the whole package, the real deal, a no-brainer. It does almost everything well without asking any concessions of the buyer.
Take a closer look at the Ford Escape >>