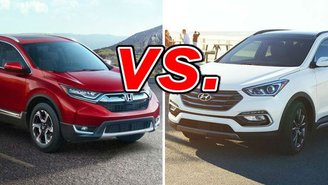 Still fresh from last year's total redesign, the Honda CR-V remains one of the best-selling compact crossover of all time. Whatever it is that families want most in a vehicle, the CR-V always seems to deliver it.
The Hyundai Santa Fe Sport doesn't have that kind of track record, but it's undeniably spacious, well-equipped, and even fun to drive. But does that make it just as appealing as the lauded CR-V?
See a side-by-side comparison of the CR-V & Santa Fe Sport »
What the Santa Fe Sport Gets Right
For buyers who don't need the third row found in the regular Santa Fe, the lower-priced Sport offers most of its features in a five-passenger package. The Sport feels nimbler and more energetic than its big brother, and yet offers a spacious rear seat and excellent cargo capacity for its size — 71.5 cubic feet.
Every Santa Fe Sport gets a six-speed automatic transmission and driver-selectable steering modes. The standard 2.4-liter four-cylinder engine produces 184 horsepower and 178 lb-ft of torque. The EPA pegs efficiency at 24 miles per gallon in combined city and highway driving, or 22 mpg with all-wheel drive.
The optional 2.0-liter turbo develops 240 horsepower and 260 lb-ft of torque, impressive output for this class. The boost in performance comes at a cost of just one mpg in combined driving on front-drive models. With all-wheel drive, efficiency is virtually identical to the base engine.
What the CR-V Gets Right
The CR-V feels larger inside than just about any other compact crossover. The airy interior is just the right size for a family of five — and a vacation's worth of luggage. There's 39.2 cubic feet of space behind the rear seat, and an eye-opening 78.5 cubic feet with it folded. Some midsize crossover can't hold as much stuff. The CR-V's supple suspension really shines on long stretches of road.
The base model runs with a 2.4-liter four-cylinder that produces 184 hp and 180 lb-ft of torque. Efficiency is well above average at 28 mpg combined. The rest of the lineup gets a 1.5-liter turbocharged four-cylinder with 190 hp and 179 lb-ft of torque. The turbo achieves 30 mpg combined, which is downright exceptional given the CR-V's capability. Adding all-wheel drive reduces these figures by about one mpg. Both engines are paired with a continuously variable automatic transmission (CVT).
How does the Hyundai measure up?

The Santa Fe Sport scores well in just about every category that matters in this class. It's hard to imagine any shopper regretting the decision to take one home.
The same can be said of the CR-V, only more so. It overachieves in efficiency and cargo space, while doing everything else nearly as well.
Our Choice: Honda CR-V
The multi-talented CR-V deserves all the sales it gets.
Take a closer look at the Honda CR-V »