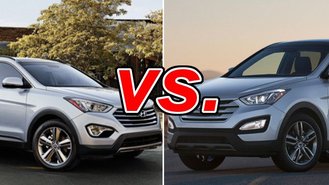 Hyundai's Santa Fe crossovers come in two sizes: the midsize seven-passenger Santa Fe and the compact five-passenger Santa Fe Sport. They share the same exterior and interior styling cues, but are designed for different audiences.
When it comes to Hyundai's popular crossovers, which size do we prefer?
See a side-by-side comparison of the Santa Fe and Santa Fe Sport »
What We Like About the Santa Fe
Boasting exterior styling that is both athletic and mature, the Hyundai Santa Fe is an attractive midsize crossover. The 290-horsepower 3.3-liter V6 engine and six-speed automatic transmission mean that the Santa Fe has plenty of power on tap, providing excellent acceleration and the ability to tow up to 5,000 pounds. The transmission works nicely with the engine to provide smooth meaningful shifts at just the right times.
The Santa Fe's spacious interior features three rows of seats and room for six or seven passengers depending on the trim level. Fit and finish are excellent for this class. Handling is good, but not quite sporty. The suspension is tuned for passenger comfort. Front-wheel drive is standard, and all-wheel drive is available.
What We Like About the Santa Fe Sport
The Hyundai Santa Fe Sport is the Santa Fe's kid brother. Offering similar styling in a smaller package, the Sport is an attractive compact crossover that looks a lot more expensive than it actually is. The Santa Fe Sport is available with either a 190-horsepower 2.4-liter four-cylinder or a feisty 264-horsepower 2-liter turbocharged four-cylinder engine. Both engines are attached to an excellent six-automatic transmission. The Sport is available in front-wheel or all-wheel drive configurations. Fuel efficiency is about the same with either engine, but acceleration and price are not. The turbocharged engine adds about $6,000 to the MSRP.
With its shorter wheelbase and available turbo, the Sport behaves more like a sports car than its big brother. Handling is good, if not perfect, and the suspension is tuned for sporty driving at the expense of some comfort.
Can the Sport Measure Up?
The seven-passenger Santa Fe offers more of just about everything in a package that focuses on utility and convenience. The smaller Sport wins all day in the handling department, and is mighty quick with the turbo engine.
Our Verdict: Hyundai Santa Fe
Sometimes more really is more, as is the case with the Santa Fe.
Take a closer look at the Hyundai Santa Fe »