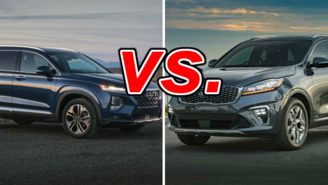 The Hyundai Santa Fe, the brand's senior compact crossover, serves buyers who want family-friendly room and features, but not necessarily room for seven. With its standard third row, the Kia Sorento can handle two extra passengers and offers the choice of V6 power. Is the Santa Fe enough crossover for most buyers, or is the larger Sorento a better deal?
See a side-by-side comparison of the Santa Fe & Sorento »
What The Santa Fe Gets Right
The freshly redesigned Hyundai Santa Fe is longer and wider than previous versions and carries more standard equipment, including adaptive cruise control and driver alertness monitoring. It retains a five-passenger layout, although those passengers have more leg and shoulder room than before. (The carryover 2019 Santa Fe XL offers three-row seating). Cargo space behind the rear seat measures a robust 35.9 cubic feet. With it folded, buyers have 71.3 cubic feet to work with.
The standard 2.4-liter four-cylinder engine produces 185 horsepower and 178 pound-feet of torque, typical output for this class. With front-wheel drive and the standard eight-speed automatic transmission, the Santa Fe is EPA-rated at 22 miles per gallon city, 29 mpg highway, and 25 combined. The available all-wheel-drive system reduces these estimates to 21/27/23 mpg (city/highway/combined).
Performance gets a significant boost with the optional 2.0-liter turbocharged four-cylinder engine, which delivers 235 hp and 260 lb-ft of torque. EPA ratings come out to 20/25/22 mpg with FWD or 19/24/21 mpg with AWD. Keep in this mind that this engine is reserved for the two most expensive trims.
What The Sorento Gets Right
The Kia Sorento is one of the most affordable three-row crossovers on the market. It might not have interior volume of a large crossover, but two passengers can fit in the rearmost seat without complaint. Cargo space is limited to 11.3 cubic feet with all seats occupied. With the rows folded, the Sorento offers a solid 73 cubic feet of space.
The Sorento covers a lot of market territory across its five trim levels. Pricing starts out competitive with the bottom two trims carrying a four-cylinder engine, and then heads into near-luxury territory with features like premium leather and a surround-view camera.
The Sorento uses the same base engine as the Santa Fe (the brands are corporate cousins), but the Kia's lower trims carry a six-speed automatic instead of the eight-speed unit found everywhere else in the lineup. The Sorento's optional 3.3-liter V6 offers 290 hp and 252 lb-ft of torque, which is more appropriate for the vehicle of this size. With the larger engine, the FWD Sorento gets 19/26/22 mpg and the AWD variant gets 19/24/21 mpg.
What's More Important?
Buyers who must have room for seven or a V6 engine should head directly to the Kia Sorento. It's a thoroughly competent crossover that can be dressed up (or down) as tastes and budgets dictate. The Hyundai Santa Fe offers nearly as much cargo space and attractive standard features. It's a very good value among compact crossovers, which aren't expected to carry more than five people anyway.
Our Verdict: Hyundai Santa Fe
The Hyundai Santa Fe makes the most of its compact dimensions. Families of five or fewer don't have to go any bigger.
Take a closer look at the Hyundai Santa Fe »