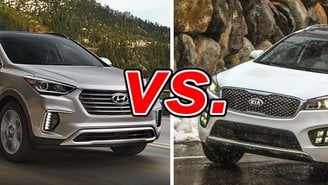 When comparably equipped, the Hyundai Santa Fe and the Kia Sorento have more in common than the exterior of either would suggest. With identical performance numbers, including gas mileage, neither has a significant edge when it comes to driving dynamics.
So, in this battle of the midsize family-friendly SUVs, will the Hyundai or the Kia win the prize?
See a side-by-side comparison of the Santa Fe & Sorento»
What We Like About the Santa Fe
Boasting exterior styling that is both athletic and mature, the Hyundai Santa Fe is an attractive midsize crossover. The 290-horsepower 3.3-liter V6 engine and six-speed automatic transmission mean it has plenty of power on tap, providing excellent acceleration and the ability to tow up to 5,000 pounds. The transmission complements the engine by shifting exactly when it should.
The Santa Fe's spacious interior features three rows of seats and has room for six or seven passengers depending on the trim level. Fit and finish are excellent for this price class. The Santa Fe's suspension tuning favors comfort, but handling is good, if not quite sporty. Front-wheel drive is standard, while all-wheel drive is optional.
What We Like About the Sorento:
The practical and good-looking Kia Sorento comes standard with a 191-horsepower four-cylinder engine. To better compete with the Hyundai Santa Fe, we would opt for the available 290-horsepower 3.3-liter V6, which comes with a six-speed automatic transmission. With the V6, Acceleration is strong, and the Sorento can tow up to 5,000 pounds.
The Sorento's interior is attractive and fit and finish are top-notch. The ride quality is quite comfortable, steering is precise, and the warranty is among the best in the business—characteristics also shared by the Sante Fe.
What's the Difference?
Picking a winner is more of a personal choice than a qualified decision. Gas mileage for both is identical at 18 mpg city and 25 mpg highway, and their interior dimensions line up within tenths of an inch. Their excellent warranties cover the entire time you are making payments, an important perk for families on a budget.
Our Verdict: Hyundai Santa Fe
With everything else equal, the Santa Fe gets the nod for its somewhat sleeker styling inside and out.
Take a closer look at the Hyundai Santa Fe »