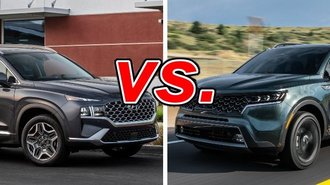 Sister brands Kia and Hyundai have made a name for themselves with value-oriented models that punch above their price point. The Kia Sorento and Hyundai Santa Fe are consistently among the bestsellers.
The two midsize SUVs share much in common, including their platform and engine options. So what separates the two? We took a closer look to find out with a comparison based on key specs and features.
See a side-by-side comparison of the Hyundai Santa Fe & the Kia Sorento »
What the Santa Fe Gets Right
Both models come in five trims. In lower trims, the Hyundai Santa Fe is the cheaper option. With the base 2.5-liter engine, the Santa Fe checks in around $2,500 cheaper than the Sorento.
Despite the cheaper price, the Santa Fe includes some features not found on the Sorento. Active safety tech like blind-spot monitors and adaptive cruise control are included on all trims, while they're optional on the Kia.
Both models start with a strong 5-year/60,000-mile warranty. The Santa Fe ups the ante with 3 years of coverage for scheduled maintenance, which is a bonus the Sorento (and most competitors) can't match.
What the Sorento Gets Right
The Sorento's biggest advantage is its cabin. Unlike the Santa Fe, the Sorento comes with three-row seating and can carry up to seven passengers. The third row isn't comfortable for most adults, but it works well for children.
With one or two rows folded, the Sorento also enjoys an advantage in cargo capacity. The Sorento's second row slides fore or aft to create up to 45 cubic feet of space, and folding it opens up more than 75 cu ft. Both numbers handily outclass the Santa Fe's 36.4 or 72.1 cu ft.
While the Sorento and the Santa Fe use the same engines, the Sorento squeezes out more power in most configurations. With the turbo or hybrid powertrains, the Kia has a few extra horsepower over the Hyundai. Both models are expected to add a plug-in hybrid sometime in 2021.
A Question of Space
To return to our original question of what separates these two models, the answer is: not much. You'll find comparable powertrains, trims, and features in both.
The biggest difference is the seating. If you routinely carry more than four or five passengers, the Sorento is the only option.
The Santa Fe makes up for its two-row arrangement with value and safety. Especially in the lower trims, it's a better bargain thanks to its maintenance coverage and included active safety tech.
Our Verdict: Hyundai Santa Fe
If you need a third row, the Sorento is a good choice. For most buyers, however, we think the Santa Fe's standard features and excellent warranty make it a better buy.
Take a closer look at the Hyundai Santa Fe »