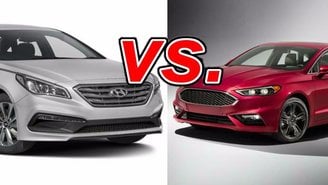 In the hotly contested midsize sedan segment, the Hyundai Sonata and Ford Fusion do battle with some of the best-selling cars on the planet. Both models have to be very good at what they do, or else buyers would simply stay away.
The Sonata and Fusion are capable enough to take on any challenger, but which one impresses us more?
See a side-by-side comparison of the Sonata & Fusion »
What the Sonata Gets Right
Every Sonata offers a spacious (and quiet) environment for five passengers. The trunk holds an above-average 16.2 cubic feet, and a split-folding rear seat comes standard.
Most models carry a 2.4-liter four-cylinder engine that's good for 185 horsepower. The Eco trim receives a 178-horsepower turbocharged 1.6-liter four-cylinder, which delivers 32 mpg in combined city and highway driving (versus 30 mpg with the 2.4-liter). At the top of lineup is a 2-liter turbocharged four-cylinder that produces a stout 245 horsepower. The 2.4-liter and 2-liter run with a six-speed automatic transmission, while the 1.6-liter gets a seven-speed unit.
What the Fusion Gets Right
The Fusion remains one of the best-looking family cars in existence. The wide horizontal grille and dramatic roofline will remind you of cars costing twice as much. The impressive design continues inside, where you'll discover plenty of high-quality materials and technology features.
On the road, the Fusion always manages to be quiet and composed, imparting the feel of an entry-level luxury car. Wind and engine noise have been all but engineered out at highway speeds.
The Fusion comes standard with a 175-horsepower four-cylinder engine. For greater power and efficiency, you can upgrade to one of two available turbocharged engines with up to 231 horsepower.
Which Stands Out?
The Sonata and Fusion are equals when it comes to fundamentals like comfort, power, and efficiency. The difference lies in the driving experience. The Sonata is smooth and relaxed, whereas the Fusion behaves more like a lean athlete.
Our Verdict: Ford Fusion
The Fusion's driving dynamics are a cut above what we expect in a family sedan.
Take a closer look at the Hyundai Sonata >>