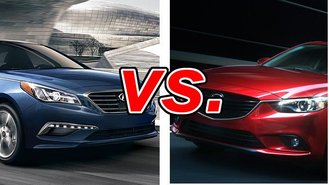 The midsize sedan market has been overflowing with talent in recent years, and Mazda and Hyundai have thrown their respective hats in the ring with the Mazda6 and Sonata. The Mazda6 received a complete overhaul for the 2014 model year, while the Sonata just received a full overhaul for the 2015 model year.
See a side-by-side comparison of the Sonata & Mazda6 »
Both automakers have had image issues in recent years. Hyundai has been fighting off the "cheap car" stigma with moderate success. Mazda, meanwhile, has a nameplate that's simply losing steam. Which model has improved enough to overtake the other?
What the Mazda6 Gets Right
The Mazda6's all-new "Kodo" body style brings a sense of elegance that the model has lacked since its introduction. As with all Mazda models, the Mazda6 has a tight and sporty suspension that affords its driver some fun on twisty back roads. Additionally, the Mazda6's cabin is spacious with 42.2 inches of front leg room and 38.7 inches of rear legroom. The Mazda6 also features a trunk that is large enough to handle up to 14.8 cubic-feet of cargo.
The Mazda6's 2.5-liter SkyActiv-G four-cylinder engine gives the sedan 184 horsepower and 185 pound-feet of torque -- good enough to hit 60 mph in 7.6 seconds. Where this driveline really shines is fuel economy: the EPA rating is at 26 mpg city and 38 mpg highway when fitted with the standard automatic transmission.
See more sedan comparisons here »
What the Sonata Gets Right
First and foremost, the Sonata's all-new body easily rivals more premium cars, making easy for it to take on the Mazda sedan in the looks department. Additionally, the Hyundai's warranty leads the class.
Under the hood, the Sonata comes standard with a 185-horsepower, 2.4-liter, four-cylinder engine. The optional 2-liter turbocharged engine churns out 245 horsepower and 260 pound-feet of torque, which is good for an eight-second run to 60 mph. Also available in an Eco trim that carries a 1.6-liter, turbocharged engine that's good for 177 horsepower and 195 pound-feet of torque. This Eco trim uses a seven-speed dual-clutch transmission and oddly enough, its 7.5-second run to 60 mph is quicker than the 2.0 turbo. The 2.4-liter engine is rated as high as 25 mpg city and 37 mpg highway, and the 2-liter engine is rated up to 23 mpg city and 32 mpg highway. The Eco trim tops the engine lineup at 28 mpg city and 38 mpg highway.
Why Buy the Sonata?
The Sonata, though lacking next to the Mazda6, still has plenty going for it. First of all, its looks are modern and look more expensive than its MSRP, so it is only slightly behind the Mazda6 in terms of appearance. Additionally, the optional 177-horsepower 1.6-liter engine performs admirably and still gets great fuel economy.
Verdict: Mazda6
When it comes down to it, the Mazda6 simply has too much going for it to be outclassed by the Sonata. Not only does it look stunning, but it also comes well-equipped at a fair price and boasts fuel economy that's astronomical for a midsize sedan.
Take a closer look at the Hyundai Sonata »