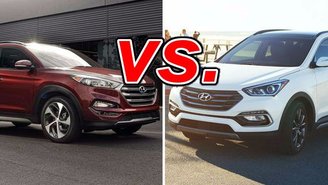 It's not uncommon for Hyundai to bake a little extra competition under its brand in an attempt to compete with the big boys in the automotive world. This is especially true in the crossover segment, where the similarly sized Tucson and Santa Fe Sport play.
Buyers often find themselves poring over buyer's guides, trying to figure out which is a better value: the Tucson or the Santa Fe Sport. We looked at both to determine which offers more bang for the buck for most people.
See a side-by-side comparison of the Tucson & Santa Fe Sport »
What the Tucson Gets Right
With its slightly smaller footprint, the Tucson is easier to move in and out of traffic, and simpler to navigate through tight parking lots. And despite this smaller body, the Tucson doesn't give up a ton of rear-seat legroom.
Though it gives up a good bit in power, relative to the Santa Fe Sport, the Tucson excels in fuel economy. In its base setup, the small crossover gets up to 26 mpg combined, and with the optional 1.6-liter turbo engine, it gets up to 28 mpg combined.
The Tucson is also notably softer on rough roads, giving it a far smoother ride than its larger sibling.
What the Santa Fe Sport Gets Right
The Santa Fe's larger footprint means it does have a little more room in the rear seat for growing families, but where it really beats the Tucson is its cargo-hauling capabilities. It can also tow up to 500 pounds more than its smaller sibling.
Under its hood, the Santa Fe Sport handily beats the Tucson with its base 2.4-lter engine that produces 185 horsepower and its optional 2-liter turbo engine with 240 horsepower at its disposal.
The Santa Fe Sport also has more options than the Tucson without having to go up to the more premium trim levels. In fact, optional on its base trim is the Popular Equipment package, which include fog lights, LED daytime running lights, roof rack side rails, dual-zone climate control, a power driver's seat, a 7-inch touchscreen and more.
The Santa Fe Sport is a Great Option, but...
The Santa Fe Sport draws in a lot of shoppers with its more powerful engines and larger footprint, but its price tag drags it down. Who is the Santa Fe Sport better for? Those looking for the added punch of the 2-liter turbo engine and families who do more towing and hauling.
Verdict: Hyundai Tucson
The Tucson has nearly the spaciousness of the Santa Fe Sport without the price tag. Additionally, it is far more fuel efficient without feeling sluggish, especially in the Eco trim. This adds up to a narrow win for the smaller crossover.
Take a closer look at the Hyundai Tucson »