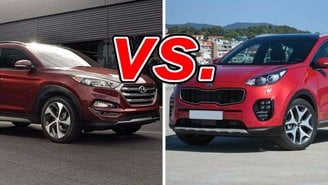 Though not quite twins, the Hyundai Tucson and Kia Sportage definitely qualify as corporate cousins. Both brands are part of the Hyundai conglomerate and share certain technology and components. Even so, these compact crossovers are distinct enough to invite a comparison, a credit to their parent company, which could have just affixed different badges and grilles and called it a day.
See a side-by-side comparison of the Tucson & Sportage »
But is there enough difference to sway us toward either one?
What the Tucson Gets Right
The current model manages to look downright sexy for a crossover. It's sculpted along the lines of sporty hatchback that happens to ride high and have extra cargo room. Responsive steering and a sport-tuned suspension provide an unexpected level of driver involvement and satisfaction. The Tucson feels tight and nimble through all phases operation, so much so that buyers stepping down from larger SUVs might need time to get used to the Hyundai's responsiveness in daily driving.
The Tucson's cabin is also larger than the Sportage's in some important measurables, including cargo room and headroom.
While none of the Tucson's engines can match what the Sportage offers, the optional 1.6-liter engine does deliver a superior 28 mpg combined.
What the Sportage Gets Right
The Sportage was all-new for 2017, and with this came a new look that is more distinct than ever. Styling is distinctive enough to be somewhat polarizing, but it is a breath of fresh air in an otherwise-bland crossover segment. This redesign also ushered in a premium cabin that's downright posh in upper trims.
Driving the Sportage is more engaging with its more potent engines—a 181-horsepower 2.4-liter and a 240-horsepower 2-liter—and tighter chassis. These more potent powertrains also allow the Sportage to tow a little more than the Tucson.
What Tips the Scale?
Both models offer greater agility and tighter handling than the average small crossover, albeit at the expensive of cargo space. The larger turbocharged engine, available only in the Sportage, delivers standout power and performance for this class of crossover.
Our Verdict: Kia Sportage
Most things being equal, the Kia's more powerful optional turbo puts it in a class by itself.
Take a closer look at the Hyundai Tucson >>