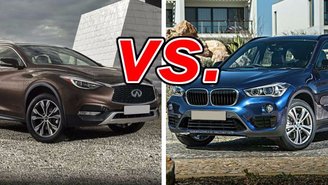 Compact crossovers are taking over the luxury realm, and Infiniti just entered this segment with its 2017 QX30. It'll face off against the original in this space: the BMW X1. This tiny Bimmer has a lot to offer, but Infiniti has a few tricks up its own sleeve with this new rig, including a mold-breaking base price.
Can this newbie roll in and immediate unseat the mighty X1?
See a side-by-side comparison of the QX30 & X1 »
What the QX30 Gets Right
The Infiniti QX30 goes blow for blow with the BMW X1 in terms of standard features, plus it checks in $3,150 lower than the base BMW X1. This works in the favor of buyers who are looking for additional features, as the extra cash leaves room for additional options or even wiggle room to bump up to the midrange Luxury trim.
Some buyers may also prefer the QX30's sportier look, especially the younger crowd, which Infiniti is aiming at with this small crossover.
The QX30 and X1 are not off-road monsters, but the Infiniti's 8 inches of ride height gives it a little more off-road confidence than the X1's 7.2 inches.
What the X1 Gets Right
Despite being on a front-wheel-drive platform, the X1 maintains BMW's impressive driving feel. It delivers excellent handling and has plenty of zippiness from its 228-horsepower four-cylinder engine – 20 hp more than the QX30 – that helps it hit 60 mph in just 6.6 seconds. Switching to the available xDrive all-wheel-drive arrangement cuts that time to 6.3 seconds.
Inside, the BMW's cabin is better insulated from wind noise than the QX30. It's also far roomier, with 3.5 more inches of rear seat leg room (37 inches) and an extra 7.9 cubic feet of cargo room (27.1 cubes) with the seats up. With the rear seats folded, the X1's advantage increases to an incredible 24.7 cubic feet (58.7 cubic feet).
While the QX30 is still awaiting IIHS crash testing, the X1 received the institution's second-highest rating: Top Safety Pick. What's more, it just missed the Top Safety Pick Plus rating due to the "Moderate" rating IIHS doled out for the optional LED headlights.
Who the QX30 Fits
The QX30, while not on the X1's level yet, does have a lot to offer. It's a perfect fit for younger families just getting into the luxury crossover space. These families can sometimes look past its shortcoming, like the cramped rear seat and limited cargo room, and enjoy its sharp looks and the extra options its lower price allows.
Verdict: BMW X1
Unsurprisingly, the BMW X1 beats the new QX30. It's simply too much to handle with its amazing handling, zippy powertrain, and roomy cabin for its size.
Take a closer look at the Infiniti QX30 »