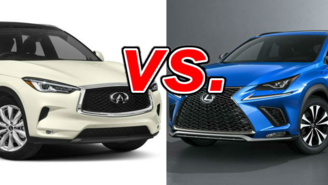 Infiniti's resident compact crossover has been totally redesigned for 2019 with emphasis on interior space and efficiency. The QX50's new drivetrain and layout make it mechanically similar to its better-selling rival, the Lexus NX. In the processing of going mainstream, has the QX50 lost its distinction, or is it now simply more competitive than the NX?
See a side-by-side comparison of the QX50 & NX »
What the QX50 Gets Right
The biggest change for the QX50 is the switch to a front-wheel-drive, four-cylinder platform. All-wheel drive remains optional, but buyers who favor rear-wheel drive or a V6 engine will have to look elsewhere. The new 2.0-liter turbocharged engine is no slouch, however, producing 268 horsepower and 280 pound-feet of torque. A continuously variable automatic transmission is used on all models.
According to the EPA, efficiency has increased to 24 miles per gallon city, 31 mpg highway, and 27 combined. These estimates drop by one mpg highway and one mpg combined with all-wheel drive.
The QX50 is 4.2 inches taller and 3.9 inches wider this year, but maintains its compact footprint. Space for people and things has increased by a noticeable margin. Cargo room maxes out at 64.4 cubic feet, a fine showing for this class, which emphasizes luxury and performance over outright utility.
What the NX Gets Right
Following a refresh last year, the NX returns with even more standard equipment to tempt buyers. The carryover 2.0-liter turbocharged four-cylinder engine delivers 235 hp and 258 lb-ft of torque to the front wheels. The EPA rates the NX at 22/28/25 mpg (city/highway/combined). With the optional all-wheel-drive setup, the combined rating drops by one mpg. Either way, the NX comes with a six-speed automatic transmission.
Interior space is biased toward people rather than cargo. The rear seat provides ample room for three passengers, which isn't always the case in this class. With the seat folded, there's 54.6 cubic feet of load space, an average showing.
Lexus also offers a hybrid version of the NX with standard all-wheel drive and EPA ratings of 33/30/31 mpg. Surprisingly, it's priced about the same as a similarly equipped gas-powered model.
Does Newer Mean Better?
The Infiniti QX50 made up a lot of ground with its latest redesign. Concerns about interior space and fuel efficiency have been silenced, even though some buyers are sure to miss the old rear-wheel-drive, V6 setup. The Lexus NX is as plush and accommodating as ever, but its efficiency advantage has evaporated, and it now trails the QX50 in cargo space.
Our Verdict: Infiniti QX50
The QX50 finally has what it takes to compete successfully against vehicles that once dominated this class.
Take a closer look at the Infiniti QX50 »