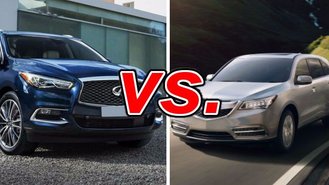 Three-row midsize crossovers are the ultimate minivan alternative for buyers with large families. Models like the Infiniti QX60 and Acura MDX have room for all the kiddos and still look the part of an SUV. They also toss in plenty of features and a healthy dose of luxury.
But which of these premium people movers is the best buy?
See a side-by-side comparison of the QX60 & MDX »
What We Like About the QX60
Three-row crossovers are never known for their third-row legroom, but the QX60 has a more livable third row. The second row gives you a pinch more legroom as well. There's also tons of available safety features like rear collision mitigation, lane keeping assist, and a surround-view camera system. Finally, the QX60 inches ahead of the MDX with better fuel economy and a lower base price.
What We Like About the MDX
The MDX has a more traditional look than the QX60. Many times, a unique look is nice, but the QX60's looks can be polarizing. The MDX is also more versatile, as its third-row bench is split-folding, meaning you can fold one half and leave the other side open for a passenger. Also on the Acura's side is its powertrain. You get significantly more horsepower and a precise-shifting nine-speed automatic transmission with paddle shifters. Finally, the MDX receives higher marks in government crash tests.
Do Looks Matter to You?
Looks are, of course, a subjective thing, and some people prefer to stand out from the crowd. The QX60 does just that, whereas the MDX has more subdued styling. If this bold look is what you're looking for, then the QX60 is perfect for you. Otherwise, the MDX is the better vehicle.
Our Verdict: Acura MDX
Other than its relatively anonymous styling and tighter rear seats, the MDX outdoes the QX60 in nearly every measure. It's more powerful, more versatile, safer, and smoother. That also makes it the victor in this head-to-head comparison.
Take a closer look at the Infiniti QX60 »