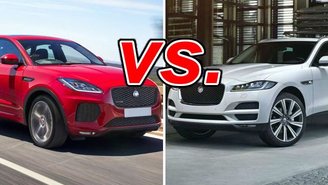 Jaguar's first-ever crossover, the F-Pace debuted last year to widespread praise for its hearty performance and ample interior space. The brand follows up this year with the E-Pace, a leaner, sportier crossover that still promises enough utility to suit active lifestyles.
How does the new E-Pace stack up against its formidable big brother? Let's find out.
See a side-by-side comparison of the F-Pace & E-Pace »
What the E-Pace Gets Right
The E-Pace dwells on the small end of its class, offering 52.7 cubic feet of cargo space, about the same as a hatchback. That's not necessarily a bad thing for a crossover that buyers will likely judge in terms of performance, not inches. In fact, the E-Pace moves with enough verve to win over sporting types who've never considered a crossover before.
The turbocharged 2.0-liter four-cylinder engine produces 246 horsepower and 269 lb-ft of torque. If that's not quite enough, a high-output version is available with 296 hp and 295 lb-ft of torque. All models comes with a nine-speed automatic transmission and multi-mode all-wheel drive system. The E-Pace's reasonably priced suspension upgrades make it more thrilling, but aren't necessary to have a good time behind the wheel.
What the F-Pace Gets Right
The F-Pace is a full step up in size – noticeably longer and taller – with a slightly more Jaguar-esque appearance. We'd stop just short of calling it midsize, although there's a generous 33.5 cubic feet of space behind the rear seat, and 61.4 with it folded. Like the E-Pace, the F-Pace comes standard with all-wheel drive and a sport-tuned suspension that can be beefed up with options.
Jaguar's 2.0-liter turbo serves as the base engine here, as well. In addition to the high-output version of the 2.0-liter, buyer can order a supercharged 3.0-liter V6 that develops 340 or 380 hp (depending on trim level) and 332 lb-ft of torque. There's also a 2.0-liter turbodiesel on the roster (180 hp, 318 lb-ft), which achieves an impressive 29 miles per gallon in combined city and highway driving in EPA testing.
Which Size Fits Better?
Both of Jaguar's crossovers take performance seriously. Dynamically, there's very little difference between them and similarly priced sport sedans. The E-Pace seems aimed at singles and couples who want reasonable versatility and a touch of ruggedness. The larger F-Pace does more to accommodate the typical crossover buyer — without losing its edge in the process.
Our Verdict: Jaguar F-Pace
The F-Pace delivers satisfying performance in a package that's just the right size.
Take a closer look at the Jaguar F-Pace »