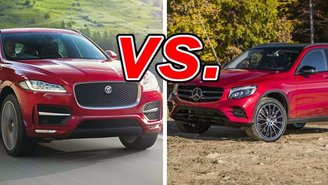 The F-PACE is the first crossover from England's iconic luxury brand. As expected, it's loaded with fine materials and advanced technology. The F-PACE is also quick and nimble, not unlike Jaguar's best sedans.
The Mercedes-Benz GLC300 made quite a splash in the luxury compact crossover market when it debuted last year. The GLC300 features an impressive amount of room inside, and a luxurious, aerodynamic exterior, unlike the boxy GLK. The GLC300 brings the same legendary Mercedes' reputation to an all-new size class class.
The Jaguar F-Pace has received favorable reviews, but can it compete with the quality of the Mercedes-Benz?
See a side-by-side comparison of the F-PACE & GLC300 »
What the Jaguar F-PACE Gets Right
The Jaguar F-PACE offers you a choice of two engines: a 2-liter four-cylinder with 180 horsepower, and a supercharged 3-liter V6 with 340 or 280 horsepower depending on the trim level you choose. The interior is full of advanced features, from a panoramic sunroof and a heated steering wheel, to a surround-view camera system. The exterior features numerous impressive features as well, including automatic-folding side mirrors, front and rear parking sensors, and 20-inch wheels. This is a crossover vehicle that will deliver performance, comfort, and extreme handling every time you get behind the wheel.
What the Mercedes-Benz GLC300 Gets Right
The Mercedes-Benz GLC300 features the same engine as the C-Class sedan, a turbocharged 2-liter four-cylinder with 241 horsepower. All-wheel drive is optional. The GLC300 features a large, roomy cabin with luxurious finishes and features like keyless ignition and driver assistance technology. The sleek exterior is both sporty and elegant. The GLC300 possesses the same level of quality as other Mercedes-Benz models, while raising the bar in the crossover car market.
Can the Jaguar F-Pace Compete with the Quality of the Mercedes-Benz GLC300?
The Jaguar F-Pace impresses with its performance, comfort, and features; however, the Mercedes-Benz GLC300 simply outclasses it with its solid German quality and sleek, attractive looks.
The Mercedes-Benz GLC300 features more room than its competitors, a more attractive shell, and enough versatility to appeal to a broad range of buyers.
Take a closer look at the Mercedes-Benz GLC300 >>