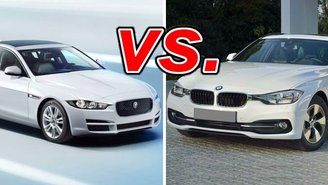 The XE is Jaguar's newest answer to compact luxury sedans from around the world. The baby Jag features aggressive styling and fine materials all around. The exterior is rather crisp, but simple, making the body attractive enough without going overboard. Some might say the Jaguar XE offers just the right balance of luxury and sport.
For decades, the BMW 3 Series has been a dominant force in the sport sedan market, inspiring many competitors who dare to take on the benchmark. From Jaguar, that competitor is now the XE
Both the Jaguar XE and BMW 328i offer athletic handling, plenty of power, and tons of available features. But which sedan impresses us more?
See a side-by-side comparison of the XE & 328i »
What the XE Gets Right
The Jaguar XE is available with your choice of three engines: a 280-horsepower turbocharged four cylinder, a 340- horsepower supercharged six-cylinder, and a 180-horsepower turbodiesel. All are paired with an eight-speed automatic transmission. The XE offers engaging overall performance, especially when it comes to handling. The exterior is elegant, sporty, and clean. The interior is also uncluttered, with fewer buttons than most competitors and a very sleek center console. The Jaguar XE is a true competitor in the small luxury sedan segment.
What the BMW 328i Gets Right
The BMW 328i features a 2-liter four-cylinder engine. The interior comes with plenty of luxurious options, including a Harman Kardon audio system, rear window shades, a driver assistance system, and fine interior finishes. It feels like a driver's car with fancy touches. The exterior is pleasing blend of prestige and sport. The 328i feels luxurious, performs aggressively, and shows off classic BMW style.
Can the Jaguar XE Compete with the BMW 328i?
The Jaguar XE impresses with its elegant design, strong performance, and creature comforts, but the BMW 328i brings slightly more to the table in all of these areas.
The BMW 328i continues to show the legendary durability of the German-made line, while adding the most advanced options, making this vehicle extremely hard to compete with.
Take a closer look at the Jaguar XE >>