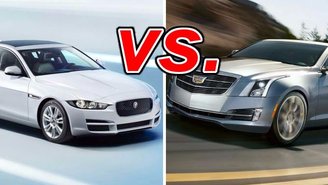 The XE is Jaguar's newest answer to compact luxury sedans from around the world. The baby Jag features aggressive styling and fine materials all around. The exterior is rather crisp, but simple, making the body attractive enough without going overboard. Some might say the Jaguar XE offers just the right balance of luxury and sport.
Since debuting in 2013 as a sharply styled alternative to the BMW 3 Series and Mercedes-Benz C-Class, the Cadillac ATS has remained relatively unchanged. For 2017, its looks remain the same, but Cadillac has finally axed the 2.5-liter base engine, leaving its 272-horsepower engine as the base powerplant.
The Jaguar XE comes from a legendary line, but can it top with the highly capable Cadillac ATS?
See a side-by-side comparison of the XE & ATS »
What the XE Gets Right
The Jaguar XE is available with your choice of three engines: a 280-horsepower turbocharged four cylinder, a 340- horsepower supercharged six-cylinder, and a 180-horsepower turbodiesel. All are paired with an eight-speed automatic transmission. The XE offers engaging overall performance, especially when it comes to handling. The exterior is elegant, sporty, and clean. The interior is also uncluttered, with fewer buttons than most competitors and a very sleek center console. The Jaguar XE is a true competitor in the small luxury sedan segment.
What the ATS Gets Right
The elimination of the wheezy 2.5-liter engine means that the 272-horsepower 2-liter four-cylinder turbo is now the base powerplant. This engine finally puts the base model in a position where it outmuscles most of its competitors, at least on paper. On top of being potent, the ATS is very comfortable in the corners. The quality of the cabin caught us completely off-guard. Sure, we expected premium features and materials, but it was well above our expectations. What's more, the improvements in insulation make the ATS quieter than ever before.
Does the Jaguar XE Match the Cadillac ATS?
The ATS is indeed impressive, but the XE is too. In fact, the Jaguar offers you more powertrain choices and an even more elegant interior.
The Jaguar XE looks and feels more like the ideal compact luxury car for modern times.
Take a closer look at the Jaguar XE >>