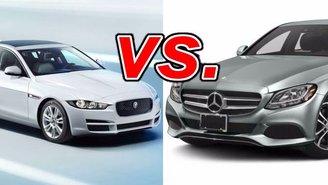 The XE is Jaguar's newest answer to compact luxury sedans from around the world. The baby Jag features aggressive styling and fine materials all around. The exterior is rather crisp, but simple, making the body attractive enough without going overboard. Some might say the Jaguar XE offers just the right balance of luxury and sport.
The C300 flies the legendary Mercedes-Benz quality flag in a sporty and attractive package. The interior features sophisticated touches all around, as well as different trim levels and impressive safety features. The C300 comes off as sophisticated, sporty, and very luxurious.
The Jaguar XE looks incredibly advanced, but can it compete with the legendary reputation of the Mercedes-Benz C300?
See a side-by-side comparison of the XE & C300 »
What the XE Gets Right
The Jaguar XE is available with your choice of three engines: a 280-horsepower turbocharged four cylinder, a 340- horsepower supercharged six-cylinder, and a 180-horsepower turbodiesel. All are paired with an eight-speed automatic transmission. The XE offers engaging overall performance, especially when it comes to handling. The exterior is elegant, sporty, and clean. The interior is also uncluttered, with fewer buttons than most competitors and a very sleek center console. The Jaguar XE is a true competitor in the small luxury sedan segment.
What the C300 Gets Right
The C300 comes equipped with a 2-liter four-cylinder engine that produces 241 horsepower and connects to a seven-speed automatic transmission. The C300 gives you the option of all-wheel drive, which enhances handling on dry pavement. The interior features a large screen on top of the center console, giving the interior an advanced look. There are various trim levels, which can give the interior a sportier look or more luxurious feel. The exterior features a heavily chromed grille, a sporty roofline, and of course the iconic stand-up hood ornament. The C300 continues to dominate the market with its top German quality.
Can the XE Compete with the C300?
Although the Jaguar XE is quite impressive, the Mercedes-Benz C300 offers more features, as well as top-notch quality and prestige, which gives it the edge in this competition.
The Mercedes-Benz C300 offers abundant safety and convenience features to go along with its undisputed quality. That makes it tough to beat in any head-to-head comparison.
Take a closer look at the Jaguar XE >>