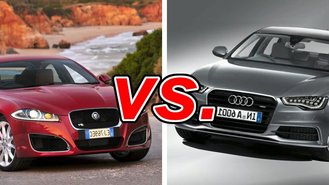 Jaguar and Audi want to join BMW and Mercedes-Benz in the upper tier of the luxury segment, but each faces a unique challenge. Audi is getting close, but has yet to achieve their undisputed prestige level; Jaguar, meanwhile, must overcome a reputation for past unreliability that many buyers still remember.
See a side-by-side comparison of the XF & A6 >>
Key to their strategies are two midsize sedans: the Audi A6 and Jaguar XF. But which of these luxury cars better helps its maker reach for the top?
What the Jaguar XF Gets Right
The XF scores instant points with a fascia that is sportier than most in its class -- making it more attractive to a younger audience. In terms of luxury, the standard 18-inch wheels, leather upholstery, 10-speaker audio system and heated seats speak for themselves.
Under its hood, the XF has four levels of power from which to choose. The base 2-liter turbocharged four-cylinder engine pumps out 240 horsepower and 251 pound-feet of torque through an eight-speed transmission for a 0-to-60 mph sprint of 7.5 seconds. The optional 3-liter supercharged V6 delivers 340 horsepower, 332 pound-feet of torque and a 5.7-second run to 60 mph. The XF Supercharged features a supercharged 5-liter V8 with 470 horsepower and 424 pound-feet of torque, and sprints to 60 mph in just 4.9 seconds. Finally, the XFR uses the same 5-liter V8 tweaked to 510 horsepower and 461 pound-feet of torque for a searing dash to 60 mph in just 4.7 seconds.
What the A6 Gets Right
Elegant A6 styling takes a more subtle approach, with rolling lines and an unimposing front fascia. On top of its classy looks, the A6 is decked out with standard 17-inch wheels, triple-zone climate control, leather upholstery and heated seats.
Under its hood, the A6 does well for itself with three engine choices. The base A6 features a 2-liter four-cylinder with 220 horsepower and a 7.4-second sprint to 60 mph. The optional 3-liter turbo-diesel V6 boasts 240 horsepower and 428 pound-feet of torque for a 5.5-second time to 60 mph. Finally, a range-topping turbocharged 3-liter V6 with 310 horsepower and 325 pound-feet of torque gets the A6 to 60 mph in 5.3 seconds.
Why Buy the XF?
The XF falls behind the Audi in options, luxury and quality, but it is still a force in the market. The biggest thing it has going for it is bargain pricing. Additionally, its sporty XFR model adds some aggression and power without breaking $85,000.
Our Verdict: Audi A6
The Audi A6 does not have the top-end power of the Jaguar XF, but it maintains a strong lead when you consider its overall luxury and quality. Additionally, buyers considering the XFR or XF Supercharged can move up to the A6's performance-oriented sibling: the Audi S6.
Take a closer look at the Jaguar XF >>