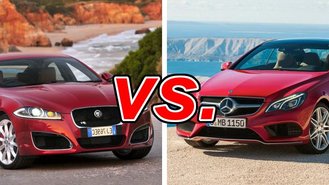 The Mercedes-Benz E-Class has been a solid midsize choice for decades -- it's not the most exciting option, though, and buyers might be open to alternatives like the stylish Jaguar XF. But does the relatively new British sedan have enough luxury, class and power to outdo the legendary Mercedes-Benz E350?
See a side-by-side comparison of the XF & E350 >>
What the E350 Gets Right
The E350 entered 2014 with a new look that includes a restyled front end and some much-needed interior changes. Two themes -- Luxury and Sport -- will appeal to a spectrum of buyers. The Luxury trim focuses on a refined look by way of a set of 17-inch wheels, a traditional grille and a hood-mounted ornament. The Sport model earns a set of 18-inch wheels, a two-bar grille with integrated three-pointed star, and a sport-tuned suspension.
Under its hood, the E350 features a 3.5-liter V6 that produces 302 horsepower and 273 pound-feet of torque that hooks to a seven-speed automatic transmission. This nets the sedan a 6.5-second sprint to 60 mph, and respectable fuel economy ratings of 21 mpg city and 30 mpg highway.
What the XF Gets Right
The design of the XF is far sportier than even the Sport variant of the E350, so it is better suited for buyers who want some classy aggression in their car's styling. Additionally, the XF comes standard with real leather seating, as opposed to the synthetic leather found in the Mercedes-Benz.
Under its hood, the XF delivers impressive performance in its three upper trim levels: XF 3.0, XF Supercharged and XFR. Respectively, these trims feature a supercharged 3-liter V6 engine with 340 horsepower and a 5.7-second sprint to 60 mph; a supercharged 5-liter V8 with 470 horsepower and a 4.9-second sprint to 60 mph; and a supercharged 5-liter V8 with 510 horsepower and a 4.7-second sprint to 60 mph.
Why Buy the XF?
The XF is still a notch below the E350, but caters well to a specific buyer. With its lower base price, its increased performance credentials in its higher trim levels and sportier face, this sedan works perfectly for up-and-coming executives.
Our Verdict: Mercedes-Benz E350
With two styles to pick from -- Luxury and Sport -- a new look, a bevy of standard amenities and a 3.5-liter V6 that delivers respectable performance and fuel economy, the E350 still sits atop the segment.
Take a closer look at the Jaguar XF >>