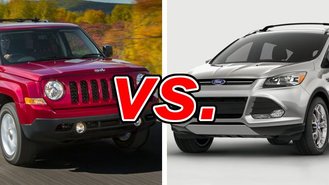 The Jeep brand is renowned for building rugged SUVs, and Ford sells as many brawny full-size pickups as it can make. But how well does this expertise trickle down to their smallest crossovers?
To find out, we pitted the Jeep Patriot against the Ford Escape. Both are affordable five-passenger vehicles designed for buyers who want a certain level of utility along with car-like efficiency and maneuverability.
See a side-by-side comparison of the Patriot & Escape »
Scoring the Patriot
The Jeep's rock-bottom price seems like a deal until you realize that even air conditioning costs extra. Once you add common features, it suddenly looks pricey for what you get. In terms of cargo space, the Patriot trails the leaders in this class by a significant amount.
Jeep offers a pair of conventional four-cylinder engines, neither of which is up to the task when equipped with an automatic transmission or all-wheel drive. Buyers can sometimes overlook lazy performance if the gas mileage is exceptional, but the Patriot doesn't deliver that benefit, either.
Why the Escape Succeeds
The current Escape started gaining praise from the moment it debuted. Along with expressive styling inside and out, the Ford boasts responsive handling and overall nimbleness that make it a very satisfying daily driver. High-quality materials are deployed throughout the cabin, and the sweeping dashboard is exceptionally attractive and functional.
The Escape offers plenty of convenience features, including active parking assist and a hands-free power tailgate. Fuel economy is quite good with any of the three available four-cylinder engines.
Why Buy the Patriot?
If you must have a crossover that can leave the road, the Patriot is worth a look. It might also hold some appeal for Jeep fans who want to remain loyal to the brand, but that's a stretch.
Our Verdict: Ford Escape
The Escape takes a backseat to no competitor, and the Patriot challenges it least of all.
Take a closer look at the Jeep Patriot >>