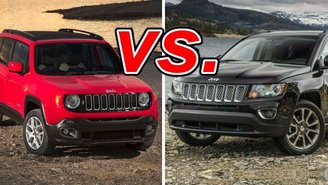 Jeep's smallest crossover to date, the Renegade debuted last year to battle the latest wave of less-than-compact utility vehicles. The Renegade is one of the few in this breed that manages to look both funky and tough.
The Jeep Compass is a more conventional compact crossover that's been on duty for the past ten years. It may be over the hill from a design standpoint, but the Compass is more capable off-road than most of its newer competitors from other brands.
Is the youthful Renegade a better choice than it's older and slightly larger sibling?
See a side-by-side comparison of the Renegade & Compass »
Where the Renegade Scores
The Renegade borrows a few styling elements from the famous Jeep Wrangler, but that doesn't stop it from looking like nothing else on the road. Some buyers will be turned off by the individualistic styling, and others will absolutely love it. We're sure Jeep planned it that way.
The Renegade is available with front- or all-wheel drive. The line-topping Trailhawk model offers legitimate off-road capability, something you can't usually find in this class. The standard 1.4-liter turbocharged four-cylinder puts out 160 horsepower and comes only with a six-speed manual transmission. You'll only find this pairing on the base Sport and the volume Latitude. The nine-speed automatic and 180-horsepower, 2.4-liter four-cylinder is optional on the lower trims and is standard on the Trailhawk and Limited.
Where the Compass Scores
As expected, the Compass offers a roomier backseat and a tad more cargo space. It looks the part of a family vehicle, and yet retains its Jeep family resemblance.
The Compass comes standard with a 2-liter four cylinder engine good for 158 horsepower. A five-speed manual is part of the deal, but most buyers opt for the continuously variable automatic transmission (CVT). You can upgrade to a 172-horsepower 2.4-liter four-cylinder, matched to the manual transmission or a conventional six-speed automatic. 2.4-liter models are available with one of two all-wheel-drive systems – Freedom Drive I is designed for on-road use, while Freedom Drive II is more capable off road (although it's not as able as the Renegade Trailhawk's Active Drive II system).
Has the Renegade Made the Compass Redundant?
Not really. Some buyers will still favor the Compass for its extra space and more mainstream personality. Everyone else will be more impressed by the Renegade's funky styling and more modern running gear.
Our Verdict: Jeep Renegade
A totally redesigned Compass is coming for the 2018 model year. Until then, the Renegade is more deserving of your attention.
Take a closer look at the Jeep Renegade »