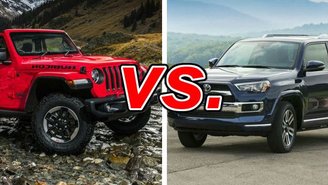 The Jeep Wrangler and Toyota 4Runner have duked it out on the trails and on the road for many years. In more recent years, these have become the remaining two built-for-off-road SUVs on the non-luxury market. Recently, the Wrangler underwent a redesign that ushered in new body with lots of classic inspiration, a more refined cabin, and a new hybrid powertrain.
Can the 4Runner keep pace with all the changes the Wrangler's gone through in 2018? Continue reading to find out.
See a side-by-side comparison of the Wrangler & 4Runner »
What the Wrangler Gets Right
The Jeep Wrangler starts with a big pricing advantage, as it begins from $32,235, making is over $3,600 cheaper than the base 4Runner. Jeep also redesigned the new Wrangler, giving is a new appearance that retains much of the model's classic styling. Inside, the Jeep Wrangler is a bit more upscale than the 4Runner, especially in higher trims, plus the rear seat has 2.8 inches of extra leg room when compared to the 4Runner.
When talking off roading, the Jeep Wrangler is one of the first models that comes to mind. Yes, the 4Runner is good off the beaten path, too, but the Wrangler's shorter wheelbase, extra 0.7 inches of ground clearance, and legendary four-wheel-drive system put it over the top. While the Jeep Wrangler's boxy shape prevents it from being a fuel-sipping SUV, its mild-hybrid four-cylinder engine gives it an advantage over the 4Runner at 23 miles per gallon city, 25 mpg highway, and 24 combined.
What the 4Runner Gets Right
While the 4Runner is showing its age, some buyers prefer its traditional SUV looks to the blocky Wrangler. Also, thanks to its longer wheelbase and more road-focused tuning, the 4Runner is more comfortable on road than the Wrangler – not to say either is overly comfortable.
The 4Runner's longer wheelbase also helps in the cargo-hauling department. With the seats up, it can haul up to 47.2 cubic feet of cargo and 89.7 cubic feet with the rear seats folded. This beats the Wrangler by 34.3 cubic feet with the seats up and a whopping 58 cubic feet with the rear seats folded. Finally, the 4Runner's 5,000-pound towing capacity beats the Wrangler by 3,000 pounds.
Haul a Lot? Go 4Runner
The 4Runner and Wrangler are very closely matched, but the Wrangler pulls out a win here. That said, the 4Runner's significantly higher trailering capacity and massive cargo area make it better for a family that does a lot of hauling.
Verdict: Jeep Wrangler
Both the Toyota 4Runner and Jeep Wrangler were built to handle driving off road just as much as they are on road. The Wrangler has long won in the off-road area, but where it puts the 4Runner away is in its revamped appearance and more refined cabin.
Take a closer look at the Jeep Wrangler »
Take a closer look at the Toyota 4Runner »