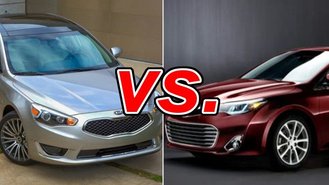 For many years, some automakers have launched vehicles in what has been informally called the "sub-luxury" market. These are cars that are not quite full-blown luxury rigs, but have the features to satisfy those buyers who want the comforts of a BMW, Mercedes, or Audi without the price tag or the upmarket badge.
Toyota and Kia cater to large-car buyers like this with the Avalon and the Cadenza. Which of these two vehicles offers the best alternative to an outright luxury car?
See a side-by-side comparison of the Cadenza and Avalon »
What We Like About the Avalon
The Avalon is a little more compact than the Cadenza, making it easier to navigate tight spaces and allowing it to slip past the Kia in terms of fuel economy. Despite being smaller, the Avalon actually has significantly more legroom in the rear seat than the Cadenza. Also surprising is its slightly larger trunk when compared to the Kia. The Avalon received a five-star overall safety rating from the NHTSA. Finally, the Avalon starts off at a price that's slightly lower than the Cadenza's.
What We Like About the Cadenza
The Cadenza manages to pull off the subtle look of a luxury car with more success than the angular Avalon. Additionally, it delivers a good bit more power and performance than the Toyota. The Cadenza's cabin is also more luxurious in base trim. And while the Avalon has more room in the rear seat, the Cadenza has more legroom up front. Finally, the Cadenza has Kia's traditional 100,000-mile powertrain warranty, besting the Avalon's warranty by a wide margin.
What Makes a Car Truly Luxurious?
The Toyota Avalon is a great alternative to luxury brands, but it still has that Toyota feel to it. This is not necessarily a bad thing, but it is far from luxurious. The Cadenza, on the other hand, doesn't feel like an upscale Kia. Instead it looks and feels like something far more premium. Sure, Kia may not be a name one often confuses with a luxury brand, but the Cadenza may quickly change your perception of this Korean automaker.
Verdict: Kia Cadenza
For buyers looking for outstanding fuel economy with some luxury, the Avalon is a great compromise. However, buyers looking purely at the amenities and comfort of a sedan, the Cadenza is closer to a luxury car than the Avalon.
Take a closer look at the Kia Cadenza »