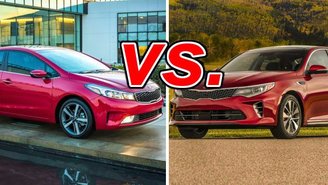 Kia has designed two worthy sedans that cater to a wide range of car buyers. Both the Optima and the Forte offer plenty of standard features, solid handling, and appealing, new designs. What's more, they both represent good values in their respective classes.
See a side-by-side comparison of the Forte & Optima >>
But which of these value-oriented models is the best buy?
What the Optima Gets Right
Recently redesigned, the Optima draws its inspiration from European models. This puts the sedan in a new class that is sure to please most buyers. The Optima already held an advantage in overall interior roominess, but its 0.4-inch-longer wheelbase and 1.2-inch-wider body has added to its cargo and shoulder room.

The 2.4-liter four-cylinder engine offers competitive performance, and those looking for added kick in acceleration and handling can upgrade to the available turbocharged 1.6-liter four-cylinder engine.

Available and improved hybrid and plug-in hybrid models help with fuel economy. Yes, these models are priced higher, but the higher fuel economy and reduced environmental impact make them a great option for some buyers.
Finally, the Optima is one of the safest cars in its class, earning a Top Safety Pick+ designation from the IIHS.
What the Forte Gets Right

Also recently restyled, the Forte draws much of its new look from the larger and pricier Optima. Additionally, the Forte has the added versatility of a hatchback model—something the Optima cannot claim here in the U.S.
Navigating tight spaces like busy city streets and small parking lots is significantly easier in the smaller Forte. In spite of its more compact exterior dimensions, the Forte actually has 0.4 inches more legroom in the rear seats than the Optima.

When it comes to accessories, the Forte offers a host of modern tech and comfort features that most competing models in its class do not. Noteworthy are heated and ventilated front seats, a navigation system, blind-spot detection, automatic emergency braking, and more.
Finally, the Forte's significantly lower price gives buyers the opportunity to take advantage of all of these premium options without breaking the bank.

Our Verdict: Kia Forte

The Forte offers everything the average consumer could want, and then some. It is reliable, well-appointed, and fun to drive—and the starting price makes it more affordable than the Optima for a lot of people. The Forte is good enough for any buyer who doesn't need the extra cubic foot of trunk space that comes with the extra cost of the Optima.
Take a closer look at the Kia Forte >>