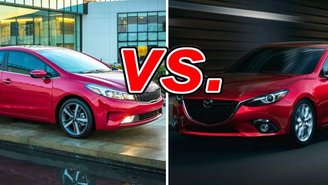 Kia and Mazda are no strangers to delivering inexpensive sedans and hatchbacks, and today they have their Forte and Mazda3, respectively, to fill these slots. Both deliver a lot of value, have sharp looks, and are plenty of fun to drive for being in the family car segment.
Which of these two rigs delivers more of what buyers want and need?
See a side-by-side comparison of the Forte & Mazda3 >>
What the Forte Gets Right
The Forte recently underwent a refresh that included a nose inspired by its larger sibling, the Optima. On top of looking more like a premium car than ever before, the Forte's larger cabin gives more room for occupants and a trunk that easily trumps the Mazda3. In addition to the extra trunk space, the Forte's rear seats offer up just a touch more legroom.
While the Forte's non-turbo engines can't hold up to the power of the Mazda3, the Forte5 SX's 1.6-liter turbo engine's 201 horsepower and dual-clutch transmission can easily match the zoom-zoom feel of the 3. For those preferring the sedan, there is the S trim level, which features a sport-tuned suspension, 16-inch wheels, and other sporty touches.
Finally, the Forte's class-leading warranty will give buyers peace of mind, and its premium options like cooled seats, adaptive headlights, and navigation give it a more upscale feel.
What the Mazda3 Gets Right
The Mazda3 sedan and hatchback feature Mazda's latest KODO design language, giving it a sportier look than the Forte has, and heightening its appeal for younger buyers. This design carries into the cabin, which is modern and has a slew of available features. Speaking of the cabin, the Mazda3 is quieter than ever, putting it on par with more expensive models.
The base 155-horsepower 2-liter gets excellent mileage at up to 41 mpg on the highway and 34 in combined driving with the automatic transmission. A 2.5-liter is also available, offering 184 horsepower and efficiency within 1 mpg of the smaller engine.
In 2017, the Mazda3 gained a new G-Vectoring Control system that helps with corners, which was already a strong feature of the 3, advanced blind spot monitoring, traffic sign recognition, and more.
Folks with stuff to carry will be well served by the hatchback and its 47 cubic feet of cargo space.
Where Each Shines
The Mazda3 offers up a sporty drive that is hard to match in this segment, making it a natural choice for performance-oriented buyers. The Forte is a more refined ride with a larger cabin, but still has a touch of sportiness with its SX and sport-tuned S trims.
Our Verdict: Kia Forte
The Mazda3 is great, but Kia has done just enough to overtake it. The new look gives it a more adult appearance while its new engines are nearly as fuel efficient as the thrifty Mazda3. The Forte takes home the win with its lower base price and optional sports trims.
Take a closer look at the Kia Forte >>