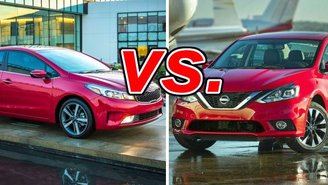 Compact sedans aren't what they used to be, and that's a good thing. Cars like the Kia Forte and Nissan Sentra aren't just for bargain hunters anymore. They offer livable backseats, handsome styling, and all the comfort and technology features most buyers want.
Which is the more desirable example of not-so-basic transportation in our view?
See a side-by-side comparison of the Forte & Sentra »
What the Kia Forte Gets Right
The Forte offers legitimate comfort for four adults and 14.9 cubic feet of trunk space, more than some midsize sedans. There's also a hatchback version, dubbed Forte5, with wagon-like room in back. Last year's standard 1.8-liter engine is gone, replaced by a 2-liter four-cylinder with 147 horsepower, matched to your choice of a six-speed manual or six-speed automatic transmission. The optional direct-injected 2-liter four-cylinder produces 164 horsepower and comes with the automatic only.
The Forte is known for offering plenty of upscale features to go with its snappy styling. With even more equipment on the roster this year, the Forte simply shines when it comes to content for the money.
What the Nissan Sentra Gets Right
The Sentra aims for above-average refinement in its class—and certainly achieves it. The understated styling will remind you of more expensive cars and is likely to wear well over time. The back seat is especially spacious for this class, and makes the Sentra a sensible choice for small families. Fit and finish are excellent throughout, well beyond anything found in previous generations of the Sentra.
Underneath the skin, the focus is efficiency. The sole engine is a 1.8-liter four-cylinder that makes 130 horsepower and achieves 40 mpg on the highway when paired with the available continuously variable automatic transmission (CVT).
Is the Kia Better than the Nissan?
Buyers stepping down from larger cars will undoubtedly appreciate the Sentra. It hides its economy-car roots fairly well with upscale looks, quality trim, and smooth operation.
The Forte is the embodiment of a lot of car for the money. In terms of features and overall value, it stands tall against any competitor.
Our Verdict: Kia Forte
You'll walk away from the Forte thinking that Kia is charging too little for it.
Take a closer look at the Kia Forte >>