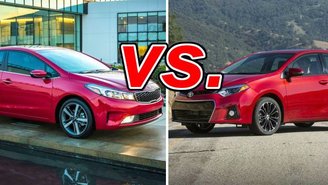 After a few years in design limbo, the Kia Forte and Toyota Corolla received some key updates in 2014. While the Toyota has remained the same since this redesign, the Forte just underwent a big refresh that ushered in a new look and powertrains.
See a side-by-side comparison of the Forte & Corolla >>
The Forte and Corolla are both fit to rumble in the smaller end of the midsize segment, but which has the advantage from our point of view?
What the Forte Gets Right
The new-look Forte draws much of its front-end styling from its larger sibling, the Optima. This new look is more European and grown up, making the Forte more appealing to more established buyers. The Forte is also slightly smaller than the Corolla, making it easier to navigate through tight quarters. Despite this smaller size, the Forte has a far larger trunk for hauling luggage.
With the new look also comes a new S trim level for the Forte, giving it a sport-tuned suspension, 16-inch wheels, and other sporty features.
The base powertrain is a 147-horsepower 2-liter four-cylinder matched to a six-speed manual or six-speed automatic, a setup that yields up to 38 mpg on the highway. An optional 2-liter with 164 horsepower is also an option. The Forte5 hatchback also has an available 201-horsepower turbocharged 1.6-liter engine mated to a dual-clutch transmission.
Finally, the Forte has one of the most comprehensive warranties in the market, giving its owner peace of mind.
What the Corolla Gets Right
The Corolla's look are sharper and more youthful than the Forte, pleasing the younger crowd. Like the Kia, it's also been designed to be slightly lower and wider for a tauter, more athletic appearance. The Corolla was always a smooth and quiet performer, and now there's more room in back and improved seat padding to keep passengers comfortable. Despite the Corolla's growth, weight gain is minimal thanks to extensive use of high-strength steel in body components.
In 2017, the Corolla lineup inherits the old Scion iM, giving it the Corolla iM hatchback to match the Forte5's versatility.
Though none of the Corolla's powertrain options can match those of the Forte, its up to 42 mpg highway makes up for this shortcoming.
The Bottom Line
It's obvious that both cars have moved from the compact segment to the small end of the midsize range, but they do so without compromising efficiency or cannibalizing sales of their bigger stablemates. The Forte looks and feels more like a mainstream family sedan, whereas the Corolla has a sporty, youthful character that's certainly a departure from the previous generation.
Our Verdict: Kia Forte
A small midsize that doesn't know its place, the Kia delivers more than buyers are used to getting in this class.
Take a closer look at the Kia Forte >>