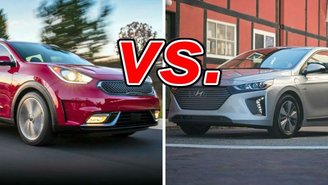 The Kia Niro crossover debuted last year, offering standard hybrid power without a price penalty. Now comes the plug-in version, which can cruise around town without using a drop of gas. The Hyundai Ioniq boasts the same capability in hatchback form. Underneath its conventional styling lies a car that's obsessed with efficiency. Both are examples of plug-in technology applied to a mainstream vehicle that most buyers can afford. They deserve credit for that, but which one deserves more?
See a side-by-side comparison of the Niro & Ioniq Plug-in-Hybrid »
What the Ioniq Plug-In Hybrid Gets Right
Although it's technically a hatchback, the Ioniq looks like a contemporary family sedan, and offers nearly the same passenger room. There's 23 cubic feet of cargo space the rear seat, and almost double that with it folded.
Power comes from a 1.6-liter four-cylinder gasoline engine and a 32-kilowatt electric motor. Combined output is 139 horsepower. Unlike most hybrids, the Ioniq uses a conventional six-speed automatic instead of a continuously variable transmission (CVT).
Travel is virtually gas-free for the first 29 miles. After that, the Ioniq runs on a mix of gas and electricity. In hybrid mode, the Ioniq is EPA rated at 52 miles per gallon in combined city and highway driving. Recharging the battery pack takes two hours and 18 minutes on a 240-volt home charger, or close to nine hours on a standard household outlet.
What the Niro Plug-In Hybrid Gets Right
The Niro uses the same plug-in hybrid setup found in the Ioniq – the brands are corporate partners and share engineering. Power ratings and charging time are identical. Otherwise, the Niro is a completely different animal with all the characteristics that buyers expect in a small crossover, like 54.5 cubic feet of cargo space. With its sporty lines and purposeful stance, the Niro proves that hyper efficiency doesn't have to look a certain way.
On a full charge, the Niro is good to run for 26 miles on electricity alone. With the gas engine contributing its share, the Niro is EPA rated at 46 mpg combined. We can't think of another crossover that uses gas so sparingly.
What Matters More?
If terms of brute efficiency, the Ioniq comes out on top, just as it should. We expect a hatchback to edge out a crossover, especially when they have the same powertrain. The question is whether the Niro's advantages in style and capability are enough to compensate for a not insignificant loss in efficiency.
Our Verdict: Kia Niro Plug-In Hybrid
The Kia Niro Plug-In Hybrid raises the bar on efficiency in the class of vehicle that buyers want most.
Take a closer look at the Kia Niro »