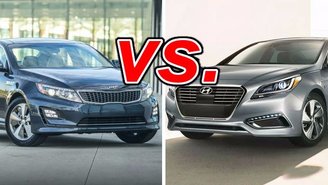 The Kia Optima Hybrid continues the climb to popularity, as it offers an extremely smooth exterior, which participates in the aerodynamics of its shell, as well as a technologically advanced interior. The new Optima Hybrid can finally compete with the most reputable brands on its market.
The Hyundai Sonata Hybrid saw some upgrades in 2016. The new Sonata features new characteristics in the body, a new engine, and a longer lasting battery. Hyundai has done a great job making the Sonata a high-level contender on the competitive hybrid market.
The Optima and the Sonata have both been quite popular in the recent years, but which one is better?
See a side-by-side comparison of the Optima Hybrid & Sonata Hybrid »
What the Kia Optima Hybrid Gets Right
The Kia Optima Hybrid comes equipped with a 2.4-liter four-cylinder engine, which works together with a 47-horsepower electric motor, and a 47kW lithium polymer battery; together, all three produce 199 horsepower. The exterior is very aerodynamic, because of its lower bumpers and the vents on the bumpers. The visually pleasing exterior is complemented with LED lighting, and a 16 or 17-inch alloy wheels. On the inside, the Optima features unique options, like the cooling glovebox, and as for safety and comfort, the Optima offers features like the rearview camera and the leather seat upholstery. The Optima Hybrid has raised the bar, now competing with all other Hybrids on the market.
What the Hyundai Sonata Hybrid Gets Right
The Hyundai Sonata Hybrid uses a 2.0-liter gasoline engine, which works together with a 38 kW electric motor to produce 193 horsepower. The Hybrid comes with impressive features, like the rearview camera, power-folding side-mirrors, LED taillights, and projector-lens headlights. For extra money, you can have features like leather upholstery, HID headlights, 17-inch wheels, and even a heated steering wheel. As for the safety, you can have a blind-spot monitor, smart cruise control system, and rear cross-traffic alert, along with parking sensors and collision warning. The Sonata is as advanced as any of its competitors.
Which one is the better choice, the Optima or the Sonata?
Both cars are extremely close when it comes to performance, technology, and comfort; however, the Kia Optima Hybrid takes a slight lead, as it offers slightly more power and more cabin space.
The Kia Optima Hybrid stands out with its impressive performance, advanced features, and tremendous safety. This car can now compete with the more expensive Hybrids on the market, such as the Camry and the Accord.
Take a closer look at the Kia Optima Hybrid >>