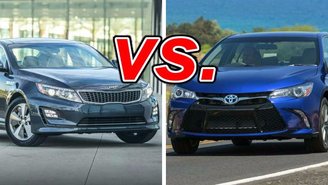 The Toyota Camry Hybrid has received mild upgrades since its last restyle in 2015. The Camry features a spacious interior with plenty of comfort features, and the exterior remains quite attractive. This hybrid features all the latest technology, making it one of the most desirable models in this class. It's always tough to compete with the quality of the Toyota Camry Hybrid.
The Kia Optima Hybrid features a smooth, aerodynamic exterior and plenty of available comfort and safety features. The Optima has come a long way, and can now compete with the best in its class.
Which is the better example of high efficiency in a family sedan?
See a side-by-side comparison of the Optima Hybrid & Camry Hybrid »
What the Camry Hybrid Gets Right
The Toyota Camry Hybrid comes with a 2.5-liter four-cylinder-electric-gasoline engine, which produces 200 horsepower and is rated at 43 mpg in combined driving. The interior features power front seats, a backup camera, push-button start, and blind spot monitoring. As for the exterior, the Camry features 17-inch alloy wheels, a sunroof, and LED lighting. Overall quality and refinement remains at the top of this class.
What the Optima Hybrid Gets Right
The Kia Optima Hybrid comes equipped with a 2.4-liter four-cylinder engine and electric motor, which together produce 199 horsepower. The Optima Hybrid is rated at 38 mpg in combined city and highway driving. The freshened exterior features more aerodynamic bumpers with lower vents. On the inside, the Optima Hybrid packs a cooled glovebox, a 10-way power driver seat, and leather upholstery. A full range of driver-assistance technology is available.
Can the Optima Match the Camry's legendary quality?:
Although the Optima Hybrid boasts plenty of features, they're not enough to overcome the Camry Hybrid's sterling reputation and slightly efficiency advantage.
With the Camry Hybrid, you get high efficiency and all the reliability of the Camry nameplate without any loss in performance.
Take a closer look at the Kia Optima Hybrid >>