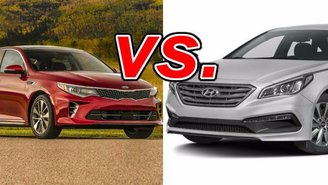 They don't sell like the Honda Accord and Toyota Camry, but the Hyundai Sonata and Kia Optima have come a long way in recent years. Buyers no longer perceive them as "alternatives" to the bestsellers, but as direct competitors with advantages of their own.
The Sonata and Optima offer the room, efficiency, and features that families needs, but which goes the extra step to win you over?
See a side-by-side comparison of the Sonata & Optima »
Why the Optima Makes Sense
The Optima starts with a 2.4-liter four-cylinder engine that produces 180 horsepower, which is plenty for most mid-size sedan buyers. For maximum efficiency, Kia offers a 1.6-liter turbocharged four-cylinder good for 177 horsepower. The top power choice is a turbocharged 2-liter with a hearty 245 horsepower. With three available engines, the Optima offers something for almost everyone in the market for a family sedan.
The cabin is quiet and thoroughly contemporary, trimmed with nicely textured materials all around. We found the front seating positions to be especially comfortable for tall folks. The standard split-folding rear seat leads to 15.9 cubic feet of trunk space, a bit more than you get in top-selling rivals.
Why the Sonata Makes Sense
Although the Sonata certainly looks different than the Optima, the two cars are very similar under the skin. Hyundai owns a major stake in Kia, so platforms and major components are offered shared between the brands. The Sonata offers you the same engine choices as that Optima and similar interior room and options.
So what's different? The Sonata looks more conservative inside and out. Its suspension tuning is biased toward comfort, and the base model offers slightly less equipment at a lower price. In short, the Sonata takes a more traditional approach to family transportation. This distinction may be subtle, but we think most drivers will notice.
Down to the Nitty-Gritty
If price is your chief concern, the Sonata will bring a bigger smile to your face. But if you're looking for a nice balance of features and price, the Optima will probably serve you better. Beyond that, the Kia is a little edgier in both looks and handling, whereas the Sonata comes off as calm and relaxed.
Our Verdict: Kia Optima
The Optima adds a dash of spice to the family car recipe while doing everything else right.
Take a closer look at the Hyundai Sonata »