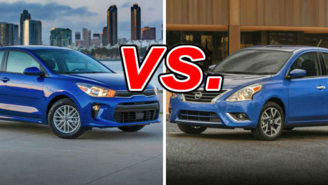 They might dwell at the very bottom of the automotive market, but subcompacts like the Kia Rio and Nissan Versa offer perfectly acceptable daily transportation at a bargain price. These are competent little cars that perform as promised and keep on attracting budget-conscious shoppers. If we had to choose between the Rio and Versa, which would we take home?
See a side-by-side comparison of the Rio & Versa »
What The Rio Gets Right
The Rio does its best to be entertaining to drive, despite its economy mission. Handling is a cut above most competitors, and the 1.6-liter four-cylinder engine is vigorous for its size. It delivers 130 horsepower and 119 pound-feet of torque to the front wheels. A six-speed automatic transmission comes standard, along with power windows, locks, and (heated) side mirrors. At 13.7 cubic feet, the trunk can handle most shopping errands.
Ride quality is surprisingly good, and the Rio cruises quietly at highway speeds. EPA estimates are what we expect in this class: 28 miles per gallon city, 37 mpg highway, and 32 combined.
What The Versa Gets Right
The 2019 Versa undercuts the 2019 Rio in base price – and just about every other car on the market – by $3,070. For the price of entry, buyers get plenty of rear seat room and a generous 14.9-cubic-foot trunk. This explains why the Versa has become so popular with ride-share drivers.
The front-drive Versa is powered by a 1.6-liter four-cylinder engine good for 109 hp and 107 lb-ft of torque. A five-speed manual transmission is offered on the base model only. Most examples carry a continuously variable automatic transmission, which helps the Versa achieve EPA ratings of 31/39/34 mpg (city/highway/combined).
Most For The Money
When equipped the way most buyer want, the Nissan Versa loses most of its price advantage over the Rio. This still leaves the Versa with more accommodating rear quarters and an edge in fuel economy. The Rio's strength lies in how well it performs for such an inexpensive car. In terms of road manners and rolling refinement, there's nothing cheap about it.
Our Verdict: Kia Rio
The Kia Rio wins when there's more to consider than just economy.
Take a closer look at the Kia Rio »