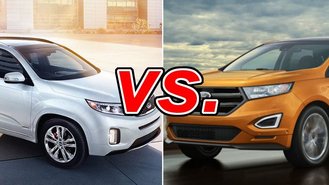 When Kia first emerged on the American scene, the Korean company was known for generic vehicles and low pricing. Since then Kia has fought hard to build a reputation for cars that are not only inexpensive, but reliable and well-built.
See a side-by-side comparison of the Sorento & Edge >>
Models like the Kia Sorento face major competition like the Ford Edge. But is it up to the challenge?
What the Kia Sorento Does Well
The Sorento is available in three trim levels, and all-wheel drive is standard on all of them. An optional 2.4-liter direct-injected four-cylinder engine returns 30 mpg highway.
Base models are surprisingly well-equipped, even at a price that starts around $23,000. There is also a wide selection of technology and climate control options. A third-row seat is available, and a Sorento has 72.5 cubic feet of storage space.
What the Ford Edge Does Well
The Edge is available in four trim levels, all available with all-wheel drive. The base 3.5-liter V6 is powerful and delivers quick acceleration. An optional 2-liter turbocharged four-cylinder engine was a welcome addition. But the star of the line is a 3.7-liter V6 available on the Sport trim.
The MyTouch Ford display system is well-designed and easy to use. But what really separates the Edge from the competition is its quiet, smooth and comfortable driving experience.
Is the Kia Sorento Relevant?
The Sorento is surprisingly relevant in this highly competitive class. What makes it attractive is a low price point combined with an wide array of features and options. Also, the Sorento has added versatility with an available third row and slightly more cargo capacity.
Our Verdict: Ford Edge
The Kia holds its own against the Ford Edge, but we prefer the superior driving experience, engine options and more comfortable interior of the Edge to the larger cargo capacity, versatility and price of the Sorento.
Take a closer look at the Kia Sorento >>