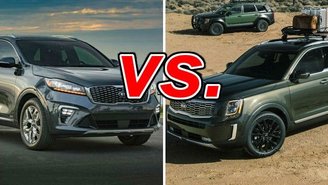 Kia's lineup is all about value, but that doesn't necessarily mean downsizing. The brand's two largest SUVs, the Kia Sorento and the Kia Telluride, both offer V6 power and third-row seating. Which is the better buy? Here's a closer look at the differences between the two.
See a side-by-side comparison of the Sorento & Telluride »
What the Sorento Gets Right
The Sorento's biggest advantage is price. Starting at just under $27,000, the cheapest Sorento is almost $6,000 less than a base-spec Telluride.
The difference is largely thanks to the Sorento's smaller base engine. Its 2.4-liter inline four-cylinder motor also happens to be the thriftier option, achieving an EPA-estimated 25 miles per gallon combined with front-wheel drive. Opting for all-wheel drive dents that figure down to 23 mpg, but either is better than the Telluride's 21 mpg with all-wheel drive. The Sorento still has a 290-horsepower V6 available for drivers who want the extra power.
The value proposition is most pronounced in the middle of the trim range. Even with the optional V6 engine selected, a Sorento EX is thousands cheaper than an equivalent Telluride EX. At that spec, the Sorento gets leather seats and competitive active safety technology, making it compelling value.
What the Telluride Gets Right
The Telluride starts with a V6 engine, but its biggest advantage is space. With about five inches more wheelbase and eight inches of extra length, the Telluride can afford to give passengers some more room. Second-row travelers get three inches more leg room than the Sorento.
Though both cars offer third-row seating, the story continues behind the seats. The Telluride can swallow 21 cubic feet of cargo, even with the third row upright. That's nearly 10 cubic feet more than the Sorento.
The Telluride's other ace is its standard safety tech. Even base trims get automatic emergency braking and forward collision warning, tech the base Sorento can't match. In a family vehicle, standard safety counts for quite a bit.
How Much Is Enough?
Which SUV makes the most sense may be a function of how much stuff (and how many people) buyers need to haul. If the third row will be in frequent use, the Telluride's spacious cabin is worth the price of entry. If five passengers are the maximum, a Sorento may be sufficient.
The Sorento's price advantage is less pronounced than it may appear. Both V6 engines are more competent than the Sorento's base four-cylinder, which comes paired with a primitive six-speed transmission. With the V6 equipped, the two are closer in price.
Our Verdict: Kia Telluride
Both these SUVs are excellent value, but the Kia Telluride wins this round. Family carriers deserve the full range of safety features, and the Telluride's extra room makes it that much more versatile. Compared to competitors, however, both stack up well.
Take a closer look at the Kia Sorento »