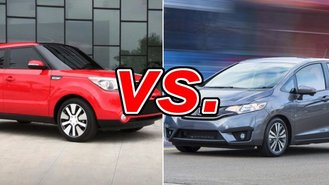 As a new market for "Urban Utility Vehicles" continues to emerge, manufacturers find themselves competing to make the cool mini-crossovers that attract city dwellers and entry-level buyers. Usually equipped with the latest technological features, this new class of automobile offers whimsical designs, bright colors and -- usually -- great sound systems.
See a side-by-side comparison of the Soul & Fit »
The Honda Fit and Kia Soul have both grabbed a segment of this market by successfully incorporating every element demanded by the hip, downtown driver.
What the Kia Soul Gets Right
It takes more than clever marketing to increase sales figures, but Kia delivers one of the coolest urban vehicles on the market with the Soul. Its upright stance, squared shoulders and distinctive fender flares are instantly recognizable.
The base Soul comes standard with a long list of features including power windows and door locks, a telescoping steering wheel, 16-inch wheels, and a six-speaker AM/FM/MP3 audio unit. Bluetooth hands-free wireless technology, SiriusXM satellite radio and USB/AUX inputs are also included on its impressive equipment list. What's more, the range-topping Exclaim trim level pushes the Soul to a level of luxury unmatched in its class.
While the base engine in the Soul is nothing to write home about, its optional 2-liter four-cylinder delivers up to 164 horsepower, which easily bests the Fit.
What the Honda Fit Gets Right
A tapered design that Honda calls "super-forward aero-form" styling distinguishes the Fit from other city cars by giving it a forward-leaning stance. The expansive front windshield and large front-quarter windows not only enhance visibility but make the Fit's cabin seem spacious for the segment. With a recent redesign, there is even more legroom for rear seat passengers -- a whopping 4.8 inches extra. It also has a cavernous 52.7 cubic feet of cargo room.
No one will ever call the Fit "powerful" with its 130-horsepower 1.5-liter four-cylinder engine, but it is extremely fuel efficient at up to 41 mpg highway.
Air conditioning and power amenities are all standard.
Is Coolness the Most Important Factor for an Urban Crossover?
When parked side-by-side, it's obvious that Kia takes greater risks when producing the Soul. Where Honda invests in a more conservative style and features that might be more attractive to a young family, the Soul targets the extrovert who wants to be seen when driving downtown streets.
Our Verdict: Honda Fit
True to its reputation, Honda relies on decades of experience to produce a sharp looking, reliable vehicle that offers more practicality than its competitors in this market.
Take a closer look at the Kia Soul »