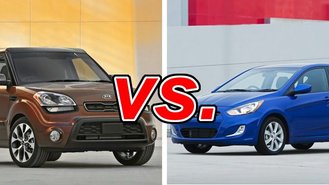 Kia's path to success was paved some time ago by another Korean automaker: Hyundai. Following a similar blueprint, Kia has become something of a revelation. With edgy styling, the Kia Soul is one of the newer hatchbacks on the market. So how does it compete with its corporate cousin, the Hyundai Accent.
See a side-by-side comparison of the Soul & Accent »
What the Kia Soul Gets Right
The Soul comes in three trim levels. The base model features a 1.6-liter four-cylinder, but the real gem is the 2-liter engine offered on the upgraded models. Fuel economy for all engines is great.
The interior rides a fine line between style and substance. We love the center console, the layout of the controls and the intelligent interior design. The cabin is roomy, has tons of headroom and legroom, plus offers 61.3 cubic feet of storage with the seats folded down. Technology options are good, but buyers are just as likely to notice a low starting price and a very nice warranty. Drivers won't be disappointed on the road, though the Soul is not going to win any races.
What the Hyundai Accent Gets Right
The Accent offers something the Soul does not: a sedan option. It also has a 1.6-liter four-cylinder that returns excellent fuel economy of 28/37/32 mpg. The direct injected engine offers enough oomph to make the Accent quick, and the ride is pleasant. While the Accent handles well for a small car, and steering is tight, it could use a better suspension system.
Despite its small size, the Accent has enough room to comfortably accommodate adults in the rear seat. Cargo space is respectable, and with the seats folded down it has 47.5 cubic feet of cargo space.
How Does the Soul Do Against the Accent?
The Soul is more comfortable and roomier than the Accent. We also like the center console and its storage space.
However, the Accent gets far superior gas mileage, is cheaper as a top-of-the-line model, and features a respectable amount of room for a small car.
Our Verdict: Kia Soul
Even if it's more expensive, the Soul has more soul.
Take a closer look at the Kia Soul »