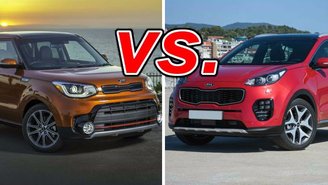 Looking for a small utility vehicle that's fun to drive? Your Kia dealer has two qualified candidates for your inspection. There's the Soul, a tall hatchback that could easily pass for a crossover; and the Sportage, which really is a crossover but handles more like a compact car.
Both models project a youthful image and are available with potent turbocharged engines. But which contender would we take home?
See a side-by-side comparison of the Soul & Sportage »
What the Soul Gets Right
The Soul starts out with a 1.6-liter four-cylinder engine with 130 horsepower. Mid-range models get a 2-liter that puts out 161 horsepower. The newly available 1.6-liter turbocharged engine develops 201 horsepower, a startling amount for this class of vehicle.
The Soul offers more cargo space that you could ever hope for in a conventional hatchback. You get 19 cubic feet of it behind the rear seats, and a crossover-like 61 cubic feet with the seats folded. There's even a removable storage bin under the cargo floor. Passenger room is also impressive for a vehicle with such a tidy footprint.
What the Sportage Gets Right
The Sportage has always been one of the more stylish options in its class. Its overall appearance is sporty and capable, if not everyone's cup of tea. Even in base trim, the cabin is well-equipped and surprisingly quiet. You can load up the inside with plenty of premium goodies if your budget allows.
The standard 181-horsepower 2.4-liter four-cylinder feels lively enough, but the optional 2-liter turbo takes performance to a whole different level. With 240 horsepower and 260 pound-feet of torque on tap, the turbo can outrun far more expensive crossovers. All-wheel drive is available with either engine. Handling is a cut above what we've come to expect from a compact crossover.
The Sportage offers 30.7 cubic feet of cargo space with the rear seats in place, and 60.1 cubes with them folded. These are average figures for the segment.
What's the Difference?
The Soul is a very effective attempt at combining the best aspects of a hatchback, wagon, and crossover. There are a few compromises (no all-wheel drive option, unremarkable ride quality), but the Soul excels where it really counts, namely interior space and overall performance.
The Sportage is surprisingly athletic for a family vehicle, especially when equipped with the turbocharged engine. And yet, it still delivers everything a crossover should, including an inviting cabin and all-weather capability.
Our Verdict: Kia Sportage
If a compact crossover is really what you want, you belong behind the wheel of a Sportage.
Take a closer look at the Kia Sportage »