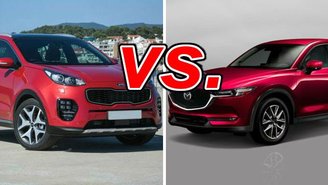 The Kia Sportage and Mazda CX-5 will never burn up the sales charts, but they remain consistent and continue to cater well to the younger demographic. Both models deliver good performance and daring appearances, but one pushes the bar just a bit higher. Which one is better in our eyes: the Kia Sportage or Mazda CX-5? Continue reading to find out.
See a side-by-side comparison of the Sportage & CX-5 »
What the Sportage Gets Right
The Kia Sportage comes in a little on the lighter side in terms of pricing at $24,590 (destination fees included) for 2018 models, which is $535 cheaper than the 2018 CX-5. What's more, at this price, the Sportage looks and feels more upscale on the inside, especially in its base and mid trim levels. The CX-5 starts matching it in the higher trims, but the value is in the Sportage. Also, the Sportage does a slightly better job at hauling cargo than the CX-5, though neither is great for its class.
Under its hood, the Sportage's optional 240-horsepower turbocharged 2.0-liter engine injects a level of performance the CX-5 can't touch with its 184-hp 2.5-liter engine.
In the safety department, both the CX-5 and Sportage do well, but the Kia comes out on top with a five-star rating from the NHTSA, while the CX-5 only gets a four-star rating. That said, the IIHS calls both models Top Safety Picks.
What the CX-5 Gets Right
The CX-5 definitely takes home the tiara in the beauty pageant, as its sharp creases and aggressive lines look much better than the curvy, bug-eyed Sportage. The CX-5's cabin is also a touch comfier for rear seat riders, as they get an extra 1.4 inches of leg room relative to the Sportage. What's more, in the higher trims, the CX-5's interior hits near-luxury levels of comfort.
The base CX-5's standard 2.5-liter engine produces 184 hp, outgunning the base Sportage's engine by three hp. In addition to that, the CX-5's EPA-estimated 25 miles per gallon city, 31 highway, and 28 combined fuel economy ratings beat the Sportage by at least two mpg city, one highway, and two combined.
Going for Style? Get the Mazda
If you prefer a little more style to your crossover, the CX-5 does this far better than the Sportage. Otherwise, the Mazda just can't quite hang.
Verdict: Kia Sportage
Despite its weird appearance, the Kia Sportage is the better buy than the Mazda CX-5 thanks to its cheaper price and higher safety rating. Plus, its potent turbocharged engine doesn't hurt it any.
Take a closer look at the Kia Sportage »