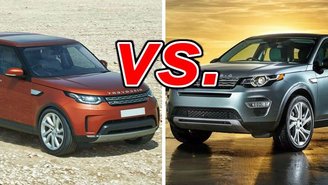 Land Rover line of off-road-ready luxury SUVs is fresh and fleshed out following the release of the latest Land Rover Discovery, the replacement for the LR4, and its smaller brother, the Discovery Sport. Both models distance themselves from their pricier Range Rover siblings without sacrificing the comfort and capability Land Rover customers continue to demand.
Both of these Land Rovers offer a lot to buyers, but they're aimed at different markets. Continue reading to find out which one best fits buyers in this class.
See a side-by-side comparison of the Discovery & Discovery Sport »
What the Discovery Gets Right
The larger Discovery immediately gets a leg up on the Discovery Sport in roominess. It has 38 inches of rear seat leg room and up to 82.7 cubic feet of cargo space, whereas the Discovery Sport offers just 37.3 inches of rear leg room and up to 66.9 cubes of cargo room. Because of this extra space, its available third row is considerably more comfortable.
With up to 11 inches of ground clearance with the optional air suspension, the Discovery is an outstanding off-road machine. It also offers a pair of potent engines – a 3.0-liter turbodiesel V6 engine with 443 pound-feet of and a 3.0-liter, supercharged V6 with 340 horsepower and 332 lb-ft of torque. These engines offer plenty of everyday power along with the low-end torque that's key to towing the Disco's 8,200-pound tow rating (over three times more than the 2,700 pounds the Discovery Sport can manage).
What the Discovery Sport Gets Right
With its smaller footprint, the Discovery Sport may be an easier drive for some buyers. And while it doesn't have the off-road chops of its big brother, the baby Land Rover is comfortable off the beaten path.
With its 240-horsepower, turbocharged 2.0-liter engine and smaller platform, the Discovery Sport is far more fuel efficient than the gasoline-fueled Discovery at 20 miles per gallon city, 25 highway, and 22 combined.
Finally, at $38,690 (including $995 destination fee), the Discovery Sport is a relative value compared to the $50,985 including $995 destination fee) Discovery.
On a Budget? Get the Sport
The Land Rover Discovery Sport has many of the bells and whistles, and even some of the off-road prowess expected of a Land Rover and but its lower base price makes it a great option for a first-time luxury SUV shopper.
Verdict: Land Rover Discovery
When it comes to buying a Land Rover, most buyers are looking for a specific set of features, While the Discovery Sport gets close for its price, the larger and pricier Discovery does a better job ticking the boxes for buyers. The roomy interior, more spacious cargo area, additional standard features, and better off-road capabilities make it the SUV of choice for established buyers in this class.
Take a closer look at the Land Rover Discovery »