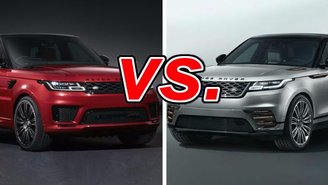 In recent years, Land Rover has softened up just a bit, especially with the Range Rover Evoque and the Discovery. But a soft Land Rover is still more capable than most other SUVs. Enter in the Land Rover Range Rover Velar, and you get a softer-looking midsize crossover that adds a new twist to the Range Rover lineup, slotting in between the Range Rover Sport and Evoque.
Though it doesn't have the "I have arrived" look of the Range Rover Sport, the Velar does muddy up the Range Rover waters a bit, due to its lower price point, roomy cabin, and decent off-road chops.
To help clear things up a bit, we took a look at the Range Rover Sport and Range Rover Velar, and pulled out their best features to determine which is the better buy.

Continue reading to find out which we think is better.
See a side-by-side comparison of the Range Rover Velar & Range Rover Sport »
What the Range Rover Sport Gets Right
The Range Rover Sport's more traditional design is the first thing fans of the brand will point out as a benefit, and we agree: There is just something impressive about rolling up in this upright SUV. Additionally, its larger footprint makes room for seven seats, though the two rearmost seats are really only for kids and on very short drives.
In terms of off-road handling, the Range Rover Sport takes first prize with its up to 11.3 inches of ground clearance and ability to wade through up to 33.4 inches of water. On top of that, the Range Rover Sport's 7,716-pound towing capacity is more than 2,000 pounds higher than the Velar's capacity.
Additional engine options, including a thriftier V6 diesel with 440 pound-feet of torque and a pair of supercharged V8 engines that produce 510 and 550 horsepower, respectively, give buyers a lot to choose from.
What the Range Rover Velar Gets Right
The Range Rover Velar's starting price of $50,895 (including $995 destination fee) is $16,850 less than the Range Rover Sport. This leaves a ton of room to add more premium options, including upgrading to the 380-hp V6 engine or the diesel four-cylinder.
While its base four-cylinder engine cannot hang with anything the Range Rover Sport has under its hood in terms of performance, the Velar's 2.0-liter engine does win the fuel-economy war. At 21 miles per gallon city, 27 highway, and 23 combined, it bests the Range Rover Sport's 3.0-liter supercharged V6 by 4 mpg across the board. Switch to the diesel four-cylinder, and the Range Rover Velar gobbles up highway miles at a rate of 30 mpg, which is two mpg higher than the Rover Sport diesel.
While all Land Rovers have upscale cabins, there is something special about the Range Rover Velar's interior. It's loaded with all the latest Land Rover has to offer, including brushed-aluminum accents, a full leather-wrapped upper dash pad, a clean center stack with 20 inches worth of touchscreens, and an optional – yes, optional – premium cloth upholstery that's really worth the extra $715.
In cargo hauling, the Range Rover Velar easily trumps the Range Rover Sport. With its rear seats up, the Velar can tote up to 34.4 cubic feet of cargo. Fold down the rear seats, and this capacity grows to 70.1 cubes. Respectively, these beat the Range Rover Sport by 9.6 and 13.3 cubic feet.
Want that look? Go with the Range Rover Sport
Like we said earlier, there is just something about rolling up to the valet in a Range Rover Sport that screams "someone important has arrived." While the Range Rover Velar is no slouch in looking the Land Rover part, the Range Rover Sport simply does it better.
Verdict: Land Rover Range Rover Velar
Sure, the Range Rover Sport has the V8 engines and better off-road chops, but the cash you can save buying the Velar, its extra cargo room, and the features it has put it just slightly above its big brother in terms of bang for the buck. They are both excellent choices for Land Rover shoppers, but the Velar simply fits the bill for more buyers.
Take a closer look at the Land Rover Range Rover Velar »
Take a closer look at the Land Rover Range Rover Sport »