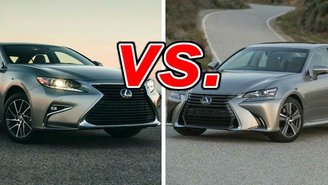 Shoppers in the market for a midsize luxury sedan have two tempting choices from Lexus, the ES 350 and GS 300. Although they share styling cues and features, two very different cars lie beneath the premium appointments. Which approach to attainable luxury works better for us?
See a side-by-side comparison of the ES 350 & GS 300 »
What the ES 350 Gets Right
The ES 350 delivers precisely what buyers have come to expect from Lexus: silky operation, plush surroundings, and unquestioned refinement. It's a perfectly tuned luxury car in the traditional mold, where comfort and smoothness take precedence. Down to the last detail, the ES 350 comes off as a car that knows how to please the senses.
As in previous years, the ES 350 carries a 3.5-liter V6 that puts out 268 horsepower and 248 lb-ft of torque. A six-speed automatic transmission delivers power to the front wheels. This setup delivers an EPA-estimated 30 miles per gallon of regular gas on the highway.
What the GS 300 Gets Right
With its rear-drive architecture and relatively firm suspension, the GS 300 falls on the sporty end of the luxury sedan class. Buyers gets quick, precise handling and assuring stability at high speeds. It's still amenable to leisurely cruising, though it doesn't offer the feeling of isolation that some drivers want.
Under the hood is a turbocharged 2.0-liter four-cylinder engine with 241 hp with 258 lb-ft of torque. An eight-speed automatic transmission with paddle shifters comes standard. The GS 300 requires premium fuel, but delivers a fine 26 mpg in combined city and highway driving, according to EPA estimates. Buyers looking for more power or all-wheel drive can upgrade to the V6-powered GS 350 or the line-topping GS F, which packs a 467-hp V8 engine.
Choose Your Personality
It doesn't take a scalpel to separate these two Lexus sedans. The ES 350 succeeds by coddling everyone on board with nearly imperceptible effort. The GS 300 distinguishes itself by exciting the driver, which makes it more of a niche player in this class.
Our Verdict: Lexus ES 350
Buyers who want the definition of Lexus luxury will find it in the ES 350.
Take a closer look at the Lexus ES 350 »