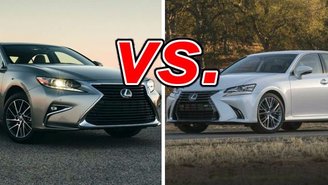 On the surface, it may seem odd that an automaker would offer two midsize sedans in the same showroom. Lexus does just that with its GS 350 and ES 350. And while it might seem like a strange business decision, once you dig into the two models – as we did for this comparison – you learn exactly why both are available.
Continue reading to find out which Lexus sedan came out the victor.
See a side-by-side comparison of the ES 350 & GS 350 »
What the ES 350 Gets Right
The ES 350 starts out at a significantly lower price, giving buyers immediate relief on their budget or the ability to add more premium options. In addition to its lower price, it offers a larger cabin, much more rear seat legroom, and additional trunk space relative to the GS 350.
Under its hood, the ES 350 is down on power, but it makes up for it in fuel economy with its 21-mile-per-gallon city and 30-mpg highway ratings. While the front-drive setup isn't the sportiest, it does provide more stability and traction in slippery conditions than the GS 350's standard rear-wheel drive. The ES 350's ride also skews more towards comfort than handling ability.
Even at its lower price, the ES 350 has a healthy roster of standard equipment, including 17-inch wheels, LED headlights, running lights, and fog lights, keyless entry and ignition, dual-zone auto climate control, leatherette upholstery, 10-way power front seats, and an eight-inch display. On top of these features, buyers can order a fully loaded ES 350 with all its high-end options and still come in under the base price of the GS 350.
What the GS 350 Gets Right
With its higher price tag, the GS 350's standard feature list is a bit longer. It includes extras like 18-inch wheels, power seats with driver's side memory, adaptive auto climate control, and a 12.3-inch display.
Power comes from a 3.5-liter V6 engine that has significantly more power at 311 horsepower and a rear-wheel-drive setup that delivers a sportier feel. Additionally, its optional all-wheel drive easily trumps the front-driven ES in the snow.
Finally, the looks of the GS scream "luxury sports sedan." The ES is much more subdued.
Features or Sportiness… You be the Judge
The GS is the sportier choice, offering more power and a rear-drive pedigree, but its higher price tag limits the options many buyers can choose. While some buyers prefer to go sporty, realize that you're sacrificing some important content.
Verdict: Lexus ES 350
If you're looking for a sports sedan, the GS is the car for you. The ES 350, on the other hand, is the better car for the average family. Its low base price allows for a lot of features, and its roomy back seat and trunk make hauling the family around a breeze. What's more, its softer ride is sure to please the luxury buyer in you.
Take a closer look at the Lexus ES 350 »