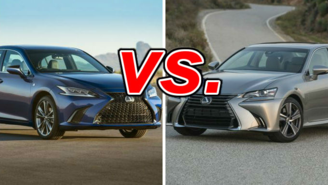 Lexus serves up mid-size sedans in two flavors: the silky ES and athletic GS. Both represent the luxury automaker well in this segment, but they go about it in different ways. Which approach works better for the majority of buyers? Let's find out.
See a side-by-side comparison of the ES & GS »
What the ES Gets Right
The front-wheel-drive Lexus ES 350 has been carefully redesigned to be dynamically sharper, but just as smooth and comfortable as always. Output from the 3.5-liter V6 has increased to 302 horsepower and 267 pound-feet of torque, and a new eight-speed automatic transmission enhances efficiency and response. The ES 350 is now EPA-rated at 22 miles per gallon city, 33 mpg highway, and 26 combined.
For the first time, the ES 350 can be equipped with the Lexus F Sport Package, aimed at buyers who might appreciate a dose of sportiness and attitude, even in a plush sedan such as this. There's also a new Ultra Luxury Package with indulgent features to complement the ES 350's essential nature – that of a refined cruiser intent on pampering its passengers.
What the GS Gets Right
The Lexus GS 300 starts off with rear-wheel drive and a rather firm suspension for a luxury sedan. Drivers are treated to decisive road manners, excellent braking, and utter stability at highway speeds. The F Sport Package enhances these signature characteristics to a greater degree than it does when applied to the ES. The GS settles down nicely for relaxed touring, but it's not designed to provide the cocoon-like experience of the ES.
The standard 2.0-liter turbocharged four-cylinder develops 241 hp and 258 lb-ft of torque, and comes hooked to an eight-speed automatic with paddle shifters. The GS 300 requires premium fuel and is EPA-rated at 22/32/26 mpg (city/highway/combined).
Buyers looking for more power can upgrade to the GS 350, which carries a 3.5-liter V6 with 311 hp, and can be equipped with all-wheel drive. For true high performance, the line-topping GS F packs a 5.0-liter V8 that lays down a mighty 467 hp.
Different Appeal
The ES aims at the center of luxury market, delivering exactly what the typical buyer wants in terms of features, comfort, and performance. There's no question that it succeeds in this mission. The GS dwells on the sporty end of this class, where handling and response take priority over serenity. That'll sound great to a lot of folks, but not too many shopping in this league.
Our Verdict: Lexus ES
The Lexus ES continues its streak as the ideal luxury sedan.
Take a closer look at the Lexus ES »