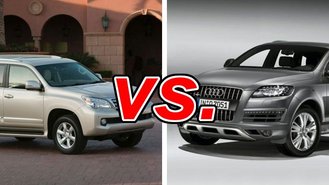 There are SUVs, and then there are luxury SUVs -- today's buyers know the difference. Lexus and Audi are pros when it comes to designing sophisticated vehicles with all the latest features, so both the GX 460 and the Q7 are top notch.
See a side-by-side comparison of the GX 460 & Q7 >>

But what do drivers really value most -- strength and versatility no matter the terrain, or high-performance luxury on the open road?

What the GX 460 Offers
The GX 460 has high-quality materials and a dependable build, and it is particularly geared towards off-road driving. To help it master all kinds of terrain, the GX is equipped with an adaptive suspension and stabilizer bars, and optional Crawl Control. Four-wheel drive comes standard. The GX is available in two trims: base and Premium. Both are powered by a 4.6-liter V8 with 301 horsepower coupled to a six-speed automatic transmission.

An impressive array of standard features prove that the 460 can be brawny and comfortable at the same time, and seven upgrade packages make customization a cinch. The GX may look refined, but it's ready to carry passengers to lunch or to the woods with equal capability.

What the Audi Q7 Offers
Audi is all about comfort, and the Q7 is one of the most luxurious SUVs on the market. Three trims are offered: Premium, Premium Plus and Prestige. Premium and Premium Plus 3.0T models get a supercharged 3-liter V6 with 280 horsepower mated to an eight-speed automatic transmission. The TDI Prestige houses a 3-liter turbodiesel V6 with 240 horsepower. All models get Audi's signature Quattro all-wheel drive. No matter what the engine, drivers are guaranteed a smooth ride with plenty of get up and go.

Power is just the beginning, however; the Q7 has an even more impressive cabin, replete with such pampering items as heated front seats, leather upholstery and an 11-speaker sound system. Moving up to higher trims adds countless features and several upgrade packages, all of which make the SUV even more extravagant and personalized.

The Takeaway
The GX 460 is capable and comfortable in all kinds of weather, on all kinds of terrain. The Audi Q7 offers power and luxury in spades, and prefers road trips to dirt roads.

Our Verdict: Audi Q7
The Q7 is both sophisticated and powerful, and offers the ultimate pampering experience that today's luxury SUV shoppers crave.
Take a closer look at the Lexus GX 460 >>