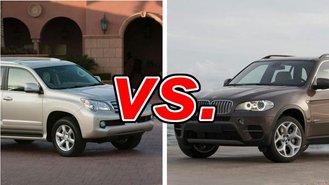 When it comes to luxury SUVs, the BMW X5 has been one of the leading lights for years. Its dedicated approach to precision engineering, sporty handling and true luxury has set a benchmark for the segment.
See a side-by-side comparison of the GX 460 & X5 >>
With the GX 460, Japanese automaker Lexus has sought direct competition with the legendary Bavarian on price and comfort. Can the Lexus live up to the X5's high marks?
What the Lexus GX 460 Gets Right
The GX 460 is available in two trims: Base and Premium. With a price point aimed squarely at the BMW, you won't find any bargain-pricing here -- Lexus means business. Power for the 189.2-inch long beast comes from a 301-horsepower 4.6 liter V8 paired to a six-speed automatic transmission.
Exterior styling may be too reserved for some, but that same conservative approach with its gentle accent lines are exactly what the doctor ordered for buyers who don't want to appear brash. Inside, you'll find three rows of seating for up to seven people. Interior design is cleanly elegant and mirrors the understated look of the exterior.
What the BMW X5 Gets Right
The BMW X5 is available in four models with three engines that range from a 3-liter twin-turbocharged six-cylinder making 265 horsepower to a 445-horsepower 4.4-liter V8 found in the all-wheel drive xDrive50i.
Everything about the X5 says, "More!" The exterior styling takes on even more of the sedan's cues than in the past, most notably at the nose. The sleek interior's intuitive dash design and fantastic seating position are what we've come to expect from BMW. Handling is sharp and crisp, unlike almost anything else in its class.
Does the Lexus Live Up To the German?
In some ways yes. The GX 460's ride is very smooth and the interior is spacious. But, it's important to remember that these two cars differ in many ways.
Our Verdict: BMW X5
We chose the X5 because it offers more fun in more ways than the reserved Lexus.
Take a closer look at the Lexus GX 460 >>