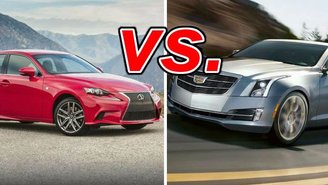 The new Lexus IS 200t offers a unique exterior that combines elegance with strength. The interior can compete with most of the small luxury sedans on the market. It features high-quality materials all around, from wood trim to chrome. The backseat is surprisingly comfortable for adults.
Since debuting in 2013 as a sharply styled alternative to the BMW 3 Series and Mercedes-Benz C-Class, the Cadillac ATS has remained relatively unchanged. For 2017, its looks remain the same, but Cadillac has finally axed the 2.5-liter base engine, leaving its 272-horsepower engine as the base powerplant.
The Cadillac ATS has a proven track record in the compact luxury class. Does the Lexus IS200t measure up?
See a side-by-side comparison of the IS 200t & ATS »
What the Lexus IS200t Gets Right
The Lexus IS200t carries a turbocharged 2-liter four-cylinder that develops 241 horsepower. The new engine achieves 33 mpg on the highway, a major improvement over last year's model. On the inside, the IS200t comes equipped with wood trim all around, an attractive leather steering wheel, and sumptuous seats with high-quality stitching. The exterior offers sharp creases and aggressive trim for a decidedly sporty look.
What the ATS Gets Right
The elimination of the wheezy 2.5-liter engine means that the 272-horsepower 2-liter four-cylinder turbo is now the base powerplant. This engine finally puts the base model in a position where it outmuscles most of its competitors, at least on paper. On top of being potent, the ATS is very comfortable in the corners. The quality of the cabin caught us completely off-guard. Sure, we expected premium features and materials, but it was well above our expectations. What's more, the improvements to insulation make the ATS quieter than ever before.
Can the Redesigned Lexus Top the Legendary Cadillac?
Although the Lexus IS200t comes with impressive features, the Cadillac ATS gives you even more. The Cadillac also offers a bit more power and sportier handling.
A potent combo of performance and luxury, the Cadillac ATS remains a step ahead of most entry-level luxury sedans.
Take a closer look at the Lexus IS 200t >>