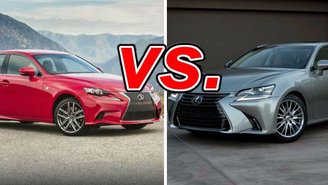 With the development of high-efficiency, high-power turbocharged four-cylinder engines, luxury automakers are abandoning base six-cylinder engines. Lexus is one of the latest to adopt this technology with its compact IS 200t and midsize GS 200t.
But which of these sedans is the better buy? We dive into both to find out which represents the better value for the average buyer. Continue reading to learn more.
See a side-by-side comparison of the IS 200t & GS 200t »
What the IS 200t Gets Right
The IS 200t starts out at a lower price, giving buyers immediate relief on their budget or the ability to add more premium options. As a smaller sedan, the IS 200t is also more nimble in traffic or a tight parking lot. It also features more responsive steering and suspension, making it more confident in the corners.
Under its hood, the IS 200t's 2-liter four-cylinder's output perfectly matches the GS 200t's. Thanks to its matching power and lower curb weight, the IS 200t is a touch quicker to 60 mph than the GS.
Even at its lower price, the IS 200t is well-equipped. Its standard features include 17-inch wheels, xenon headlights, LED running lights, headlights and taillights, a sunroof, a 10-speaker sound system, keyless entry and ignition, dual-zone auto climate control, NuLuxe premium vinyl upholstery, a 7-inch display and more.
The IS 200t also now comes standard with Lexus Safety System+, which also includes auto emergency braking, lane-departure warning and more.
What the GS 200t Gets Right
With its larger footprint, the GS 200t's rear seat is more spacious and its trunk is larger, making it better suited for growing families and vacations. There are also a few extra standard features, like a 12-speaker sound system, power seats with driver's side memory, a 12.3-inch display and more.
Power comes from a 2-liter four-cylinder engine that matches the IS 200t. Where the GS shines, however, is its more comfortable ride and quieter interior.
Like the IS, the GS 200t comes standard with the Lexus Safety System+, making it among the safest standard luxury cars.
The IS Isn't Great for Growing Families
The IS 200t is great luxury sedan, but it's only for certain buyers. For the average family with growing children, the IS' rear seats may be too cramped and the trunk too tight. It is, however, perfect for a younger crowd looking for that luxury sports sedan feeling.
Verdict: Lexus GS 200t
The Lexus GS isn't quite the performer the IS is, but where it lacks in cornering capabilities and acceleration, it makes up in comfort. Its rear seat can actually handle growing teens and its trunk is large enough to haul most of the family's luggage, despite lacking the extra space provided by folding rear seats. Sure, it's pricey, but there is a lot of value built in.
Take a closer look at the Lexus IS 200t »