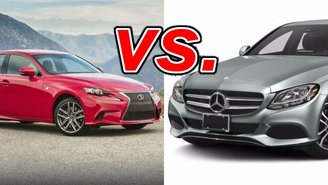 The Lexus IS 200t offers a unique exterior that combines elegance with strength. The interior can compete with most of the small luxury sedans on the market. It features high-quality materials all around, from wood trim to chrome. The backseat is surprisingly comfortable for adults. This the IS 200t's second year on the market.
The C300 flies the legendary Mercedes-Benz quality flag in a sporty and attractive package. The interior features sophisticated touches all around, as well as different trim levels and impressive safety features. The C300 comes off as sophisticated, sporty, and very luxurious.
The Lexus IS 200t has become a top competitor in the small luxury sedan market, but can it compete with the likes of the Mercedes-Benz C300?
See a side-by-side comparison of the IS 200t & C300 »
What the 200t Gets Right
The Lexus IS 200t carries a turbocharged 2-liter four-cylinder that develops 241 horsepower. The engine achieves 33 mpg on the highway, a major improvement over the 2015 model it replaced. On the inside, the IS 200t comes equipped with wood trim all around, an attractive leather steering wheel, and sumptuous seats with high-quality stitching. The exterior offers sharp creases and aggressive trim for a decidedly sporty look.
What the C300 Gets Right
The C300 comes equipped with a 2-liter four-cylinder engine that produces 241 horsepower and connects to a seven-speed automatic transmission. The C300 gives you the option of all-wheel drive, which enhances handling on dry pavement. The interior features a large screen on top of the center console, giving the interior an advanced look. There are various trim levels, which can give the interior a sportier look or more luxurious feel. The exterior features a heavily chromed grille, a sporty roofline, and of course the iconic stand-up hood ornament.
Is the Lexus IS 200t a Match for the Mercedes-Benz C300?
The IS 200t offers an impressive amount of features, as well as high-quality materials all around. However, it's tough to compete with a car like a C300, which enjoys a well-deserved reputation for quality and engineering excellence.
The C300 is an impressive specimen that's equal parts luxury and sport. The fact that it costs just slightly more than the less accomplished Lexus seals its win.
Take a closer look at the Lexus IS 200t >>