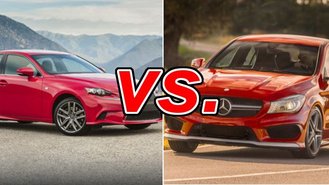 Lexus first launched its smallest sedan back in 2001. Redesigning for 2014 made the IS four-door a bit larger in its third generation. Three engines now are offered, highlighted by a new turbocharged 2-liter four-cylinder in the IS 200t. That version comes only with an eight-speed automatic transmission and rear-wheel drive. Lexus also offers two V6 options. An F Sport package is available for each IS model.
Based upon the A-Class hatchback available elsewhere in the world, the CLA250 is the first front-wheel-drive model to reach the U.S. from Mercedes-Benz. Introduced for 2014, it's also the least-costly Mercedes at American dealerships. Highly aero-efficient, the CLA250 adapts it coupe-like four-door body from the bigger CLS sedan. Technology is paramount, including standard fatigue alert; but most active-safety and other features come only in option packages.
See a side-by-side comparison of the IS 200t & CLA250 »
What the Lexus IS 200t Gets Right
Performance might be stronger with one of the V6 engines—especially in the IS 350—but the new 241-horsepower turbo-four in the IS 200t is peppy enough to satisfy most drivers. Unless they're tromping hard on the pedal, that is, in a passing or merging maneuver. At that point, a brief but significant delay might occur, stemming from the turbocharger and transmission. No such delay accompanies full-throttle operation with a V6.
Ride comfort varies from gentle much of the time, to substantially harsher when the pavement suddenly worsens. Fuel economy is passable but not A-1, EPA-estimated at 22 mpg in city driving and 33 mpg on the highway. Reaching the back seat may require some squirming, and a low roofline impedes access. Front seats are snug, straddling a wide console. Instruments annoy, with small buttons.
What the Mercedes-Benz CLA250 Gets Right
Efficient performance could be considered the byword for this "affordable" Mercedes-Benz. A turbocharged 2-liter four-cylinder engine makes 208 horsepower and 258 pound-feet of torque—sufficient to reach 60 mph in 6.7 seconds. Power reaches the front wheels (or all four) via a dual-clutch seven-speed automatic transmission, controlled by a stalk mounted on the steering column.
A standard sport suspension yields a sporty overall feel, but the ride is quite firm. Trunk space is good, with a flat cargo floor, but getting into the back seat isn't easy. That seat is tight, with minimal head clearance. Stop/start technology is standard. Gas mileage impresses, estimated at 26 mpg in city driving and 38 mpg on the highway, but all-wheel drive sinks those figures to 24/33 mpg.
Can smallest Lexus sedan measure up against shapely front-drive Mercedes-Benz?
Mercedes-Benz appears to be courting a more sport-minded audience, while the Lexus is less focused on handling talents.
Our Verdict: Mercedes-Benz CLA250
Lexus definitely has its favorable points, but the CLA250 has an all-wheel-drive option and a stronger list of appealing features, to offset its firm ride. Unfortunately, many of them cost extra.
Take a closer look at the Lexus IS 200t »