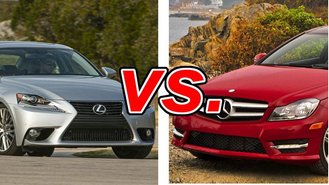 The Lexus IS 250 and the Mercedes-Benz C250 are both the base models in their manufacturer's lineup of entry luxury sedans. As such, while higher levels within their lines may outshine them, they still come equipped with standard equipment that is only available as top-level options on other makes. They are similar in appearance, features and base price, yet the Mercedes-Benz outsells the Lexus. What sets the C250 apart from the IS 250?
See a side-by-side comparison of the IS 250 & C250 »
What the Lexus IS 250 Gets Right
This sedan's interior is not just filled with luxury features, but those features are among the easiest to use with intuitive controls for everything from the electronics interface to the 13-speaker sound system. Standard leather upholstery and power-adjustable seats add to the sense of luxury and comfort.
Along with impeccable reliability, the IS 250 also offers a smooth ride with precise handling. The 2.5-liter V6 and six-speed automatic transmission deliver estimated fuel economy of 24 mpg in combined driving. The F Sport package adds a little excitement with its sport-tuned suspension.
See more luxury car comparisons here »
What the Mercedes-Benz C250 Gets Right
A turbocharged 1.4-liter four-cylinder engine and a seven-speed automatic transmission provide an estimated 25 mpg in combined driving, but they also deliver a fun driving experience. The C250 is backed by Mercedes-Benz engineering designed to create a balanced ride and nimble handling.
Among that engineering's newest developments is the attention-assist system. Unique among driver warning systems, it evaluates driver behavior at the beginning of a trip and creates a profile of normal driving behavior. Later, any deviation from that profile causes a chime to sound and a coffee cup icon to light up.
Why Does the C250 Attract More Buyers?
The C250 is fun. The turbocharged engine and excellent handling make it a pleasure to drive, while the Lexus IS 250 is slower with little of the steering feedback that makes a luxury sedan feel sporty.
Our Verdict: Mercedes-Benz C250
Mercedes-Benz quality and reputation for excellence and safety are hard to beat. These qualities, when combined with the higher fun-to-drive quotient, make the C250 the better choice for the price.
Take a closer look at the Lexus IS 250 »