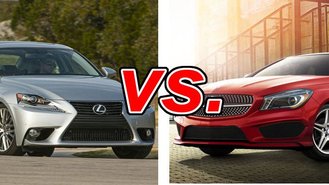 What can you expect in an entry-level luxury sedan? If the Lexus IS 250 and Mercedes Benz CLA250 are any indication, you're assured excellent build quality, an upscale interior and expressive styling. Both cars also rate highly in charisma, but which personality gives us more to like?
See a side-by-side comparison of the IS 250 & CLA250 »
Last year's redesign brought a more inviting interior and dashing looks to the IS 250. There's certainly nothing entry-level about its appearance and feel, even when stacked against pricier competitors. On the functional end of things, we're especially impressed with its plush ride quality and precise steering.
The IS 250 carries a 2.5-liter V6 with 204 horsepower and a six-speed automatic transmission. All-wheel drive is available in place of the standard rear-drive setup.
For its second year on the market, the CLA250 receives additional standard equipment to bolster its status as a luxury vehicle. With its steeply sloped roofline, the CLA250 resembles the so-called four-door coupes that are so prevalent at the upper end of the luxury market. As a result, you get a car that looks more expensive than it really is.
The CLA250's 2-liter turbocharged four-cylinder delivers 208 horsepower to the front wheels, and all-wheel drive is available. A seven-speed automated manual transmission is used on all models.
Are They Equals?
The IS 250 behaves with a buttery smoothness that leaves no doubt about its luxury mission. However, its aging V6 and six-speed automatic can't match the CLA250's turbo four-cylinder setup in either acceleration or efficiency.
The CLA250's more sophisticated drivetrain puts in on top in this matchup.
Take a closer look at the Lexus IS 250 »